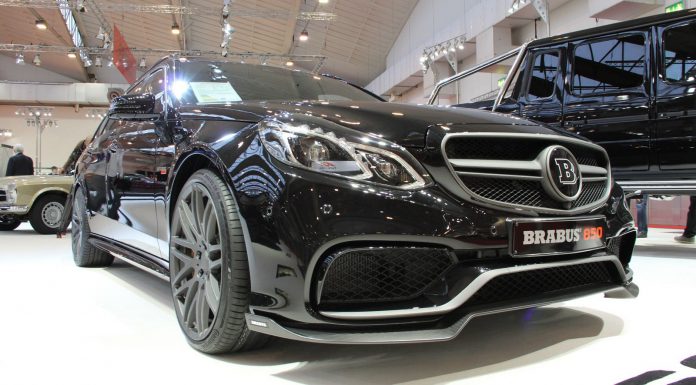 Essen 2013 is hosting the world premiere of a very special car from Mercedes-Benz tuners, Brabus. The German companies latest package has been created to me the 2013 Mercedes-Benz E63 and E63 S (the all-wheel-drive varient) in both sedan and saloon form, even quicker than they already are.
There are three stages of power increases available without increasing the standard cars 5,461cc displacement, however, there is a fourth option, a 6 liter 850hp 1,450 Nm torque option that you see photographed here. This monstrous engine has been shoehorned into the E Class estate body and it is brutal!
Being an S model, the all-wheel-drive station wagon will hit 100km/h in just 3.1 seconds! For some context, this five seat luxury estate will keep up with the ferocious Ferrari F12 Berlinetta in a straight line! To protect its tyres, the 850 has been limited to 300km/h.
As you can see, the tuners have not just worked on the performance of the car, but the aesthetics too. The Brabus aerodynamic-enhancement kit combined with the in house crafted Monoblock wheels with diameters of 19 or 20 inches, adds masses of aggression to this missile! The aero kit includes a front spoiler lip and a very sporty rear diffuser that houses the two ceramic-coated design tailpipes cast with the Brabus logo on each side.