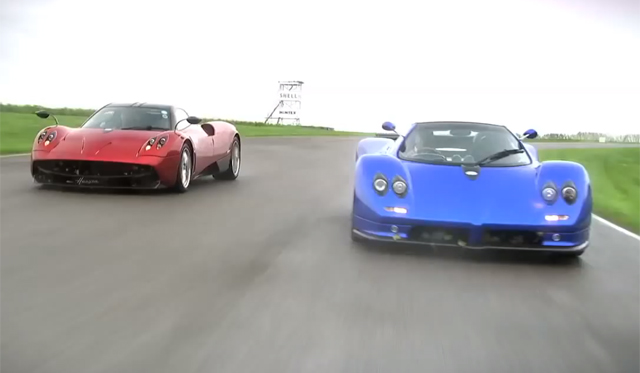 Being fortunate enough to own a supercar is a privilege. However, having the chance to own not only a Pagani Zonda C12 S but also the new Pagani Huayra is an opportunity just a handful of people have. One of those lucky men is Goodwood Road and Racing Club member Peter Read.
[youtube]http://www.youtube.com/watch?v=PWuOKE2HIvk#t=116[/youtube]
Read recently brought out both his bright blue Pagani Zonda S Roadster and his dark red and carbon fiber Huayra out for a quick spin on the Goodwood circuit and the following video is the result and is well worth a watch!
GTspirit Road Test of Pagani Huayra

While the two vehicles are separated by nearly a decade, both are extremely potent. The Pagani Zonda S Roadster is powered by a 7.3-liter V12 engine producing 547 hp and 550 lb-ft of torque. The Huayra on the other hand is powered by a twin-turbocharged 6.0-liter AMG sourced V12 engine delivering 720 hp and an incredible 740 lb-ft of torque!