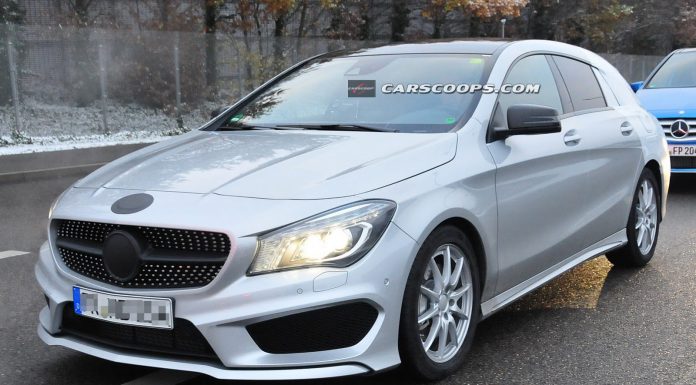 After the 2015 Mercedes-Benz CLA Shooting Brake was recently spied testing for the very first time and under heavy camouflage, another prototype has been spotted testing. However, this time the vehicle is wearing very little camouflage and was photographed up close.
As one would imagine in a Shooting Brake variant of the CLA, from the front, the car looks identical to the sedan. However, from the side it then morphs into a smaller version of the Mercedes-Benz CLS Shooting Brake. Understandably, Mercedes is keen to keep the final design touches of the new rear-end a secret but this prototype is sporting the same taillights as the regular car.
2014 Mercedes-Benz CLA 45 AMG

Under the hood, the Mercedes-Benz CLA Shooting Brake will feature the same engines as the standard CLA-Class. These include a 1.5-liter diesel with 109 hp, 1.8-liter diesel with 136 hp, 2.1-liter diesel with 170 hp, 1.6-liter petrol delivering either 122 hp or 156 hp and a 2.0-liter petrol pumping out 211 hp. It will also likely receive the full AMG treatment just like the CLS 63 AMG Shooting Brake. If this happens, then expect similar performance figures to the standard sedan CLA 45 AMG.
The Mercedes-Benz CLA 45 AMG is, mechanically, almost identical to the Mercedes-Benz A 45 AMG which received its official launch around the same time. Both cars feature the new 2.0 litre turbocharged four-cylinder and both produce a substantial 360 hp peak power figure. The differences, aside from the bodywork, are subtle but they are definitely present.
[Via Carscoops]