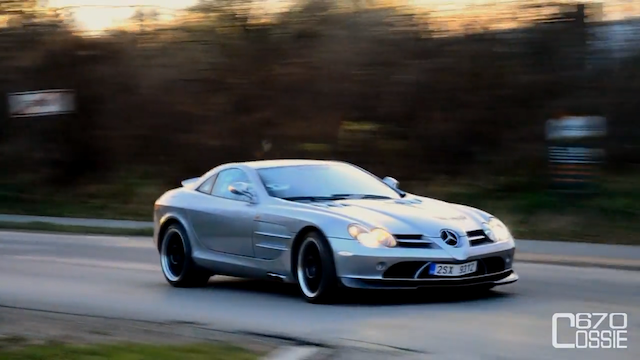 The Mercedes-Benz McLaren SLR 722 is an astonishing piece of machinery. This hypercar combines the raw pace and brutal power of McLaren with the softer, more luxurious traits associated with Mercedes-Benz. This German and British engineered speed machine is a spectacular.
The V8 is tremendous and produces a might sound that has been likened to the sound of old war planes. The owner of this beautiful car has fitted a Quicksilver exhaust system that makes the sounds even better!
[youtube]http://youtu.be/bXoZj_5LJvQ[/youtube]
The 722 was unveiled in 2006. The '722' refers to the victory by Stirling Moss and his co-driver Denis Jenkinson in a Mercedes-Benz 300 SLR with the starting number 722 (indicating a start time of 7:22 a.m.) at the famous Mille Miglia rally in 1955.
GTspirit Road Test of Mercedes-Benz SLR McLaren Roadster

The car is powered by a 5.4 liter V8 engine which provides 650 hp at 6,500 rpm and 820 Nm of torque at 4,000 rpm. Thanks to this, the Benz is able to accelerate from 0 to 100 km/h in 3.6 seconds, 200 km/h in 10.2 seconds and 300 km/h in 27.6 seconds, and can reach a top speed of 337 km/h, remarkable figures indeed. Designed to compete with the more agile Porsche Carrera GT, the SLR 722 remains one of the most exclusive hypercars on the market and one that still looks fantastic!
f you are a fan of the SLR be sure to read our road test of the SLR Roadster!