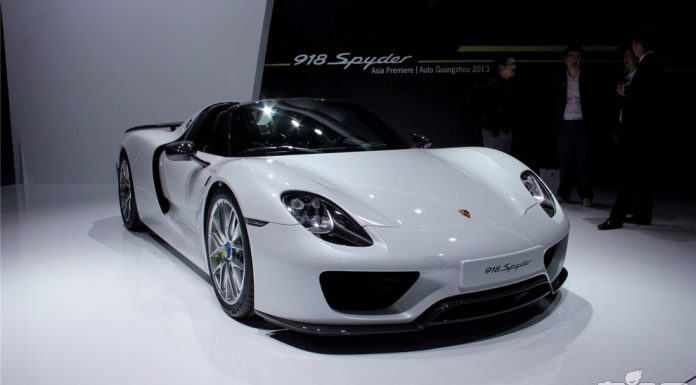 Not long after Porsche revealed the revised specifications for the Porsche 918 Spyder with the Weissach package, the following white Spyder is currently on display at the Guangzhou Motor Show 2013.
Before we get to the performance upgrades found on the Weissach-equipped Porsche 918 Spyder, it is worth nothing the few styling changes. Most significantly, the Porsche 918 Spyder Weissach features additional carbon fiber fins on the rear wheel arches. Additionally, it features a much larger carbon fiber rear wing as well as more sporty wheels.
However, the headline for the Weissach Package is improved performance. From zero to 100 km/h takes just 2.6 seconds, 0.2 seconds faster than the standard model. It takes just 7.2 seconds to travel from zero to 200 km/h in 7.2 seconds (a 0.5 second reduction), and 19.9 seconds to pass the 300 km/h mark (a 2.1 second reduction). Needless to say, this is the car that set the Nurburgring lap time!
To achieve the dramatic increases, Porsche places the 918 Spyder on a diet! It sheds around 36 kg thanks to innovative measures such as a full-body film wrap instead of paint, magnesium wheels, a weight-optimised brake system with titanium components, wheel bearings with ceramic balls, a CFRP anti-roll bar at the rear axle and a CFRP prop on the luggage compartment lid.
[Via Chexun]