Nissan have officially unveiled the next generation 2014 GT-R and it seems as if the companies designers and technicians have addressed all the issues that owners had with previous generations, making this most capable GT-R to date. Of course, this iteration of the GT-R will be faster than ever before. If you want Porsche GT3 speed then you may be interested in the Nismo GT-R that was also officially revealed today!
The 2014 Nissan GT-R is not designed to be an all new car, but an improvement and evolution of the blisteringly fast 2013 car. Areas that were highlighted to be improved predominantly focused on driver comfort i.e. the ride and interior that seemed to put owners off using their cars on a regular basis. Nissan claim the 2014 car offers smoother ride comfort, more refinement and benchmark fit and finish, in the spirit of a great "GT", while delivering breathtaking performance and road-holding. Its "multi-dimensional performance" means the driver can enjoy the full depth of the GT-R's capabilities, whether navigating corners of a winding mountain road, cruising on the highway or even in an urban environment.
With vibrations and road noise reduced, a more relaxing and comfortable ride has been achieved, again making the car easier and more comfortable to pilot. An additional benefit is improved straight-line stability, with fewer small steering corrections needed to maintain the correct trajectory during highway driving.
The upgraded GT-R is now fitted as standard with Dunlop SP Sport Maxx GT 600 DSST CTT tires, meaning the explosive all-wheel-drive can put down power for effectively and cornering at high speeds feel much more reassuring. The braking calibration has been retuned for a more firm, linear response at everyday speeds, making smooth braking more intuitive, generating greater confidence, particularly in wet conditions, all attributes that make the tenacious power and performance of the GT-R's V6 more accessible than ever before.
Nissan have been striving to find materials and techniques that make the car stiffer and lighter. Multi-material hybrid body combines steel, carbon fiber and die-cast aluminum to achieve high stiffness and light weight.
The GT-R's styling has been sculpted to be as aerodymanically effiecent as possible and as a result every generation of the car have looked very similar. The new styling characteristics are very limited but do have a very striking imapact, especially when looked at in the dark. New front and rear light clusters built of high-intensity, multi-LED headlights that create a distinctive "lightning" motif, generating a striking exterior visual signature. The new headlamps now adapt to the cars speed improving visibility when driving at highway speeds by illuminating more of the road ahead. Customers looking for added visual impact now have a wider color palette to choose from.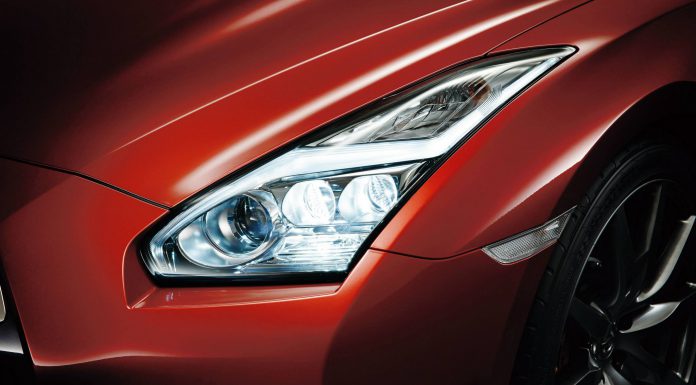 As previously mentioned the GT-R's interior was certainly an are to be improved. A choice of three interior color schemes includes a new pale ivory trim option. The steering wheel are trimmed in leather, for premium tactility, while. the part-aniline leather seats are further embellished with stitched accents, giving the ambience of a genuine GT designed for cross-continental, first-class travel.
Performance figures and stats are yet to be released. Be sure to stay with GTspirit for the latest GT-R info.