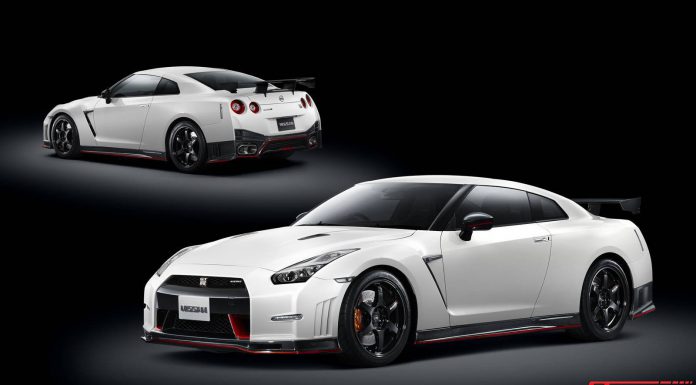 A day after leaking online, the 2014 Nissan GT-R Nismo has officially been unveiled. It will be one of the highlights of the Tokyo Motor Show 2013 when it goes on display later this week. The Japanese engineers have performed further miracles to make the Nissan GT-R faster and more powerful than ever before!
Under the hood, the 2014 Nissan GT-R Nismo features the familiar 3.8-litre V6 VR38DETT engine. It benefits from Nismo's motorsport expertise with engine power now increase up to 591 hp and 652 Nm of torque. To release the extra power, Nismo fit new high-flow, large diameter turbochargers, which come directly from GT3 racing. Nismo have also optimised the individual ignition timing control for each cylinder and upgraded fuel pump improve combustion.
At the chassis end of the package, Nismo have worked with Bilstein to develop springs and custom Bilstein DampTronic dampers for the front and rear suspension. Three suspension modes can be selected; Comfort, Normal and R for circuit applications. Exclusive Dunlop tyres are also fitted in sizing 255/40 ZRF20 at the front and 285/35 ZRF20 at the rear.
Nismo have fitted specially-developed links to the front double wishbone suspension which increases castor trail and optimises wheel position during high-G cornering. Large high-rigidity bolts are used to increase stiffness of the wheel-hub attachment area. A new hollow anti-roll bar is fitted which is lighter and measures 17.3 mm in diameter. The addition of adhesive bonding to the spot welding process adds an extra element of rigidity to the body construction.
As you can see from the photos, the 2014 Nissan GT-R Nismo also features improved aerodynamics. Combined, the front bumper, engine undercover strake and carbon rear spoiler increase downforce by 100kg at 300km/h. The drag is just Cd 0.26 which is the same as that of 2014 Nissan GT-R.
Customers will be able to order the 2014 Nissan GT-R Nismo in five body colors; Brilliant White Pearl, Meteor Flake Pearl Black, Ultimate Metallic Silver and Vibrant Red as well as a unique Dark Matte Grey. The GT-R Nismo's black 6-spoke wheels are inspired by Nissan's legendary GT500 race car.
Inside, the Nismo model is fitted with a set of ergonomically sculpted carbon-fibre-backed reclining Recaro seats (available for Europe and Japan). The car gets a new steering wheel which is dressed in Alcantara, with three spokes, red centre mark and red stitching to give the best combination of grip, feedback and comfort. The combi meter has carbon-like finish, and tachometer features a red design. The meter hood is also dressed in Alcantara and the interior trim generally features include discreet red stitching on the seats, centre console, door trim and steering wheel."
The Nissan GT-R Nismo will go on sale for Japanese customers in late February 2014 with U.S. and Europe sales due to start later in 2014.
Nissan CEO Carlos Ghosn says:
"With a 7:08.679 lap time, we can authoritatively say that the Nissan GT-R Nismo* holds the volume production car lap record at the Nürburgring Nordschliefe, which is the gold standard of high performance achievement."