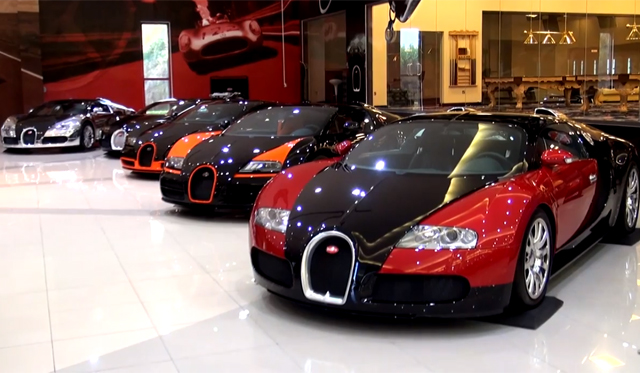 Being around the automotive circuit for as long as we have, very few supercar garages literally make our jaws drop. However, the following supercar collection has done just that with it featuring a host of rare Mercedes-Benzes, Lamborghinis, Ferraris, Aston Martins and a host of other ultra-rare cars.
Divided into different sections for different brands, this incredible supercar garage even consists of a section dedicated to Bugatti Veyrons. In this section sits a regular Bugatti Veyron 16.4, the Bugatti Veyron Grand Sport Vitesse WRE, Bugatti Veyron Super Sport WRE, another 'regular' Veyron and the extremely rare Veyron Pur Sang.
[youtube]http://www.youtube.com/watch?v=_ZS8WiGvqYw[/youtube]
On the Ferrari side of things we have a Ferrari Enzo, Ferrari F40, Ferrari 599XX, Ferrari F50 and a regular Ferrari 599 GTB. Additionally, a white and blue Maserati MC12 sits close by alongside a Mercedes-Benz CLK GTR Roadster.
This CLK GTR Roadster is joined by two Mercedes-Benz SLS AMG GT3 racing cars, an SL65 AMG Black Series, the SLR Stirling Moss, SLR 722 S Roadster and the SLR 722 Coupe!
Other miscellaneous supercars in the collection include a Lamborghini Reventon, Aston Martin One-77, Jaguar XJ220, Ford GT, Porsche 911 GT2 RS and a Porsche Carrera GT. One of the most impressive vehicles in the collection has to be the silver Porsche 911 GT1!