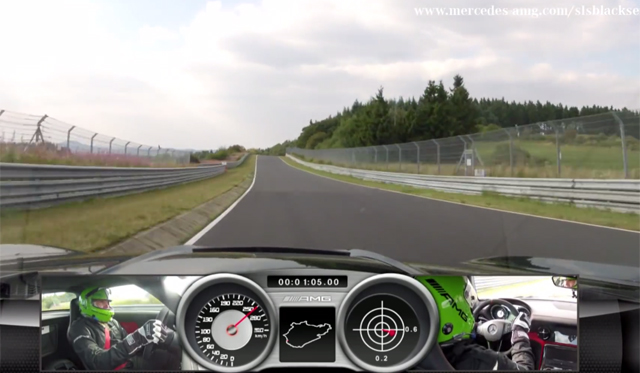 Obviously the most potent variant of the SLS, the Mercedes-Benz SLS AMG Black Series is a truly ferocious German supercar.
And where do all ferocious German supercars generally head for high speed testing? Well, the Nurburgring of course. At a recent outing, this Mercedes-Benz SLS AMG Black Series managed to lap the famous German race track in a mere 7:25.67 minutes.
[youtube]http://www.youtube.com/watch?v=mgLwDoXKklc#t=77[/youtube]
To put that into perspective, in 2008 the Dodge Viper ACR lapped the facility in 7:22.1. The Porsche 911 GT2 RS is capable of a 7:24.22 while the track focused Maserati MC12 lapped the Nurburgring in 7:24.3 back in August 2008. As a result, there's no denying that the SLS AMG Black Series is a truly ferocious supercar on the track!
However, after one look at the spec-sheet, this isn't all that surprising. When compared to the standard car, the technical improvements for the engine in the new Black Series package include custom-build camshafts, new air intakes, and improved oil and water cooling. The 6.2 liter V8 engine consequently delivers an impressive 635 hp and 635 Nm of maximum torque. Its redline has been moved from 7,200 rpm to 8,000 rpm.
Thanks to the extra performance and faster gear shift times the Black Series goes from zero to 100 km/h in 3.6 seconds, which is two tenths faster than its 571 hp-strong brother. In terms of top speed, the SLS AMG BS reaches 315, instead of 317 km/h for the SLS AMG GT. This is mainly due to the newly fitted rear wing and changed aero package.