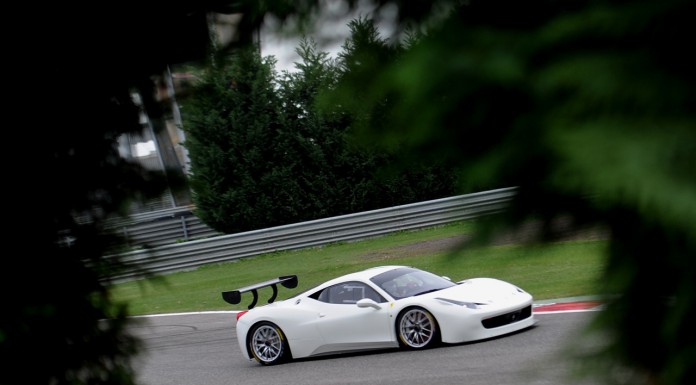 Ferrari is set to soon release a revised variant of the already potent Ferrari 458 Challenge with the release of the Ferrari 458 Challenge Evoluzione.
Ferrari has previewed the upcoming 458 Challenge Evoluzione with this single image and while it doesn't reveal much, the most striking new feature of the car is the massive rear wing. This wing is one of just numerous other aerodynamic improvements found on the Ferrari 458 Challenge Evoluzione which as the name suggests, is an evolution of the regular Ferrari 458 Challenge.
As a result of this, Ferrari will offer existing owners of the regular Ferrari 458 Challenge the chance to upgrade to the Evoluzione package. Alternatively, the Ferrari 458 Evoluzione can be purchased as a whole.
The regular Ferrari 458 Challenge released in 2010 features a direct injection V8 engine which is the same as production tune, with an output of 570 hp at 9,000 rpm. The main modifications have been made to the gear ratios and calibration of its dual-clutch F1 gearbox to guarantee higher torque at lower revs. The 458 Challenge is also equipped with the E-Diff electronic differential already employed on the road-going version, a first for Ferrari's track-only cars.
The car will be released sometime tomorrow, so stay tuned for the full details!