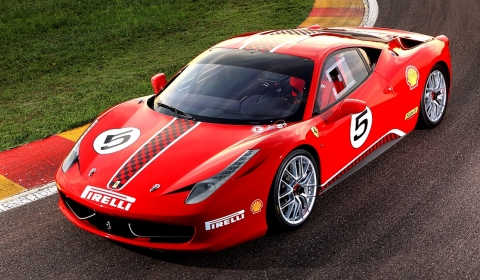 The Ferrari 458 Challenge has made its world premiere debut in Maranello during the Annual Dealer Meeting. Its release follows after we showed you the first spyshots some months ago. The new berlinetta will flank the F430 Challenge in the Ferrari Challenge Trofeo Pirelli in the 2011 season. The racing car is the fifth model used by Ferrari in its one-make championship which, next year, will be extended to include a new Asia-Pacific series.
The direct injection V8 engine remains strictly in production tune, with an output of 570hp at 9,000rpm. The main modifications have been made to the gear ratios and calibration of its dual-clutch F1 gearbox to guarantee higher torque at lower revs. The 458 Challenge is also equipped with the E-Diff electronic differential already employed on the road-going version, a first for Ferrari's track-only cars.
One subject is cutting the car's weight. The Italians focused on both the exterior and interior concentrating in particular on reducing the thickness of the bodyshell panels and on using lightweight materials, such as carbon-fibre and Lexan.
The new 458 Challenge also has a specific suspension set-up with solid aluminium bushings, stiffer springs, single-rate dampers, centre-nut 19 inch racing rims, larger dimension Pirelli slicks and a ride height lowered by 30mm all round. It is also equipped with the new generation Brembo CCM2 brakes which debuted on the 599XX and which are integrated with an ABS system that features two configurations – low grip and high performance for dry surfaces.
Another first for a Ferrari Challenge model is the adoption of the F1-Trac traction control system, the most sophisticated of its kind. The required ABS, F1-Trac and E-Diff calibration settings are selected via the manettino on the steering wheel. This is the first time this solution has been adopted on a model developed for the Ferrari Challenge series. The driver can thus either chose from the WET or DRY configurations.
Via Teamspeed we have received the first live shots of the vehicle itself shown at the 'party'. Enjoy the gallery below!