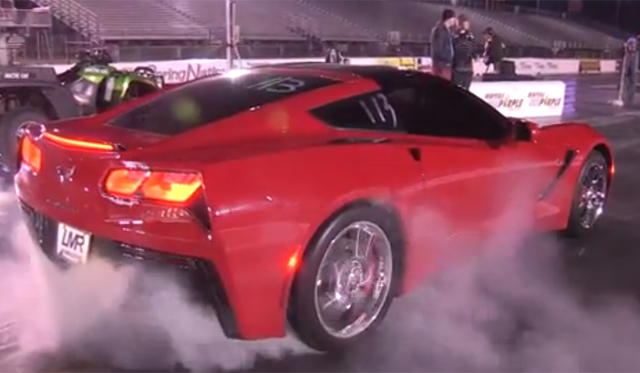 The 2014 Chevrolet Corvette Stingray is beginning to really show its performance capabilities as American tuners begin base-line testing the new Corvette ahead of the obligatory tuned Corvettes all but assured to arrive in the coming months.
[youtube]http://www.youtube.com/watch?v=FRv1GBwTtRQ[/youtube]
This particular 2014 Chevrolet Corvette Stingray is so far the quickest Corvette C7 to have completed the quarter mile beating this Corvette recently tested by American tuning specialists Hennessey Performance. With nothing more than a simple engine tune and still fitted with the stock Michelin tyres, this 2014 Chevrolet Corvette Stingray managed to smash through the quarter mile in just 11.47 seconds at a top speed of 121.9mph.
This Corvette came courtesy of Late Model Racecracft who could very well be working on upgrading the American sports car even further.
As a reminder, the new car is the most powerful base Chevrolet Corvette ever produced, with 455 hp being produced for its new generation LT1 GM V8 engine. As a result, the new car surpasses the previous generation base C6 substantially in every performance aspect and is able to launch to 100 km/h in under four seconds, pull over 1G when cornering and is able to stop from 100 km/h in a similar time to the Z06 Corvette.
Chevrolet believes that the seventh-generation Corvette, or C7, is so extraordinary and such a jump in technology over all previous Corvette's, that it has named it the Corvette Stingray after the legendary Stingray from the 1960's.