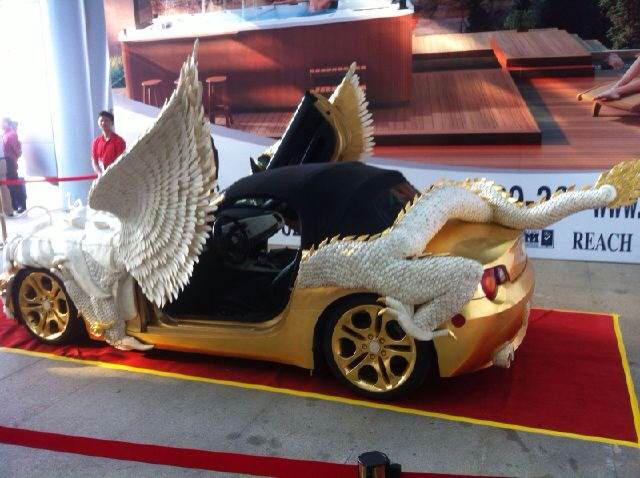 Close your eyes and imagine the BMW Z4 of our nightmares. What does it look like? Perhaps a bright pink Z4 fitted with a dozen side-exiting exhaust pipes, gullwing doors and purple wheels. Well, times that by ten and you have the following BMW Z4.
Originating from China, this BMW Z4 has first been outfitted with a gold exterior wrap and a set of noticeably cheap aftermarket gold wheels. While these golden modifications alone are enough to make the car an unfortunate head turner, they're nothing compared to what's mounted on the car.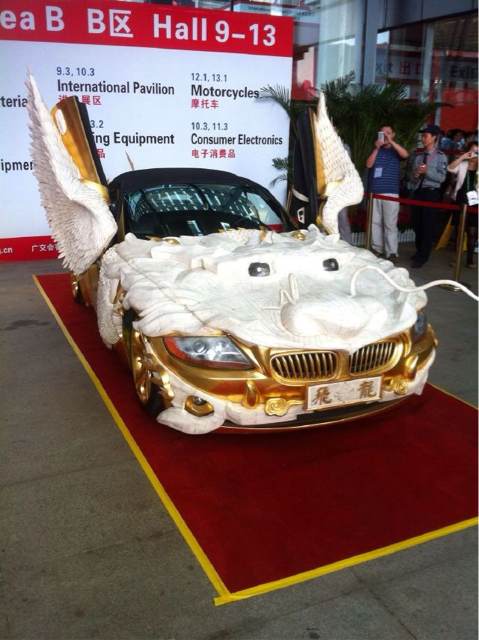 Mounted to the scissor doors are a set of angel-inspired wings and mounted on the boot of the BMW Z4 are the rear-legs, claws and tail of what appears to be a dragon!
Based on the signs in the background, it appears as though this BMW Z4 was specifically created for a special display at a convention center meaning we can only hope that the owner of the BMW Z4 doesn't drive around China like this!
Recently, GTspirit had the lucky chance to drive the 2014 BMW Z4 sDrive35is. It is powered by a twin-turbocharged 3.0-liter straight-six engine developing a total of 335hp. This BMW Z4 however, is the pre-facelift model and most likely a base model.