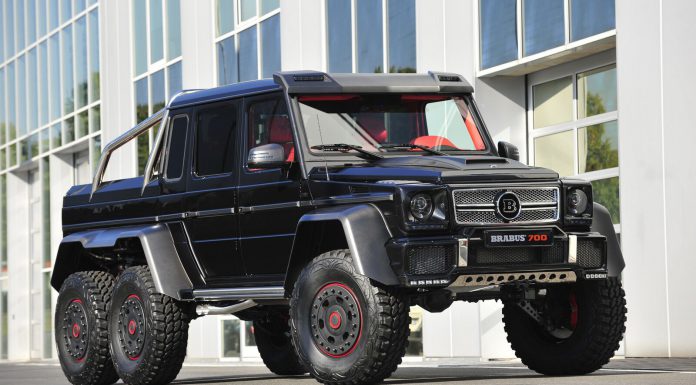 Just two units of the insane Brabus B63S 700 6×6 are pinned for production and that's a shame. The Brabus B63S takes the already insane Mercedes-Benz G63 AMG 6×6 and upgrades it thoroughly inside and out. However, despite the rarity, Centurion Cars have managed to acquire the sales rights for the yet-to-be-built second Brabus B63S 700 6×6.
With an asking price of around $813,000, this Brabus B63 700 6×6 costs exactly $300k more than the standard G63 AMG 6×6, but just what do you get for your extra money? Well, the Brabus B63S 700 is powered by a 5.5-liter V8 Biturbo with Brabus' 700 engine tuning. It produced 544hp before Brabus performed the modifications, now it has 700 hp and 960 Nm of torque, routed to all six-wheels. The four ton goliath sprints from rest to 100 km/h in just 7.4 seconds. The top speed is limited electronically to 160 km/h (100 mph) due to the 37-inch off-road tires!
The modifications made to the Brabus B63S 700 include two special turbochargers with larger compressor units and higher boost pressure, a Gold Heat Reflection cover for the intake and charge-air pipes, special high-performance metal catalysts with 75-mm (2.9 in.) downpipes, a stainless steel sports exhaust system and a new mapping for the engine management system.
[Via JamesEdition]