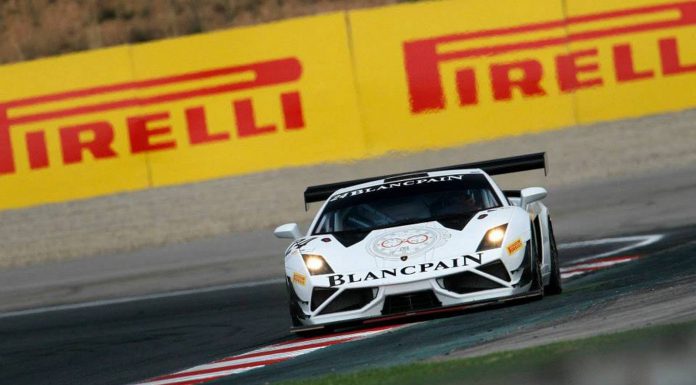 The fifth round of the FIA GT Series is happening this weekend at the Circuito de Navarra, Spain. After several practice and qualifying sessions, the Blancpain Reiter Lamborghini managed to set the quickest time during the Superpole session. It will start from pole for tomorrow's race. So far the Belgian Audi Club Team WRT leads the PRO standings with 121 points after the Slovakia round followed by Sebastien Loeb Racing with 84 points.
The HTP Gravity Charouz leads the PRO-Am standings with 113 points followed closely by Nissan GT Academy Team RJN with 108 points. The Gentleman Trophy standings are led by HTP Gravity Charouz with 132 points, there is only one more round left; the 2013 Baku World Challenge. Dates for Baku have changed from October 18th to November 20th.
As for this round, a few teams have maintained better performance all through from the qualifying sessions to the superpole. The top four positions after superpole were dominated by PRO cup teams, with the first row having the Reiter Lamborghini and two Belgian Audi Club Team WRT Audi's.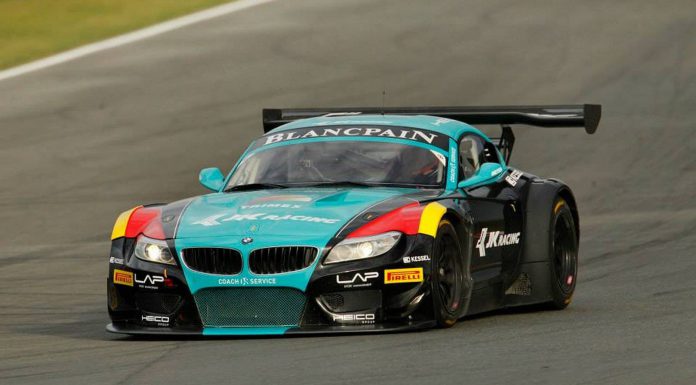 The Sebastien Loeb Racing McLaren 12C set the fourth fastest time of 1m49.746 and will start from the outermost lane of the second row. The Team Novadriver Audi will be the only PRO-Am team starting at the second row after setting a time of 1m49.776s ahead of the BMW Sports Trophy Team Brazil.
Drivers' Quotes:
Stefan Rosina (SVK), Lamborghini Blancpain by Reiter Engineering – Lamborghini LP560-4 #24 (Pro)
"Today was quite difficult for us because we had mechanical issues (gearbox change in FP1). Marc (Basseng) did a very good job earlier and was fastest, so I had a bit of pressure for the Superpole! But it all turned out well and it is really unbelievable when I looked at the times and saw P1.I have to be grateful to the team because the Lamborghini is getting better and better. We will see tomorrow what happens during the races because we have some strong cars behind us. I hope it will not rain because wet conditions are difficult for everyone!"
Michael Ammermüller (DEU), Novadriver – Audi R8 LMS Ultra #14 (Pro Am)
"I am happy with this result, because we drove a lot during Free Practice sessions and did not manage to be in the Top 10 at all. We have a very good car and being first in Pro-Am is great as our target is to be on top of the class and make good points for the championship. I like driving in FIA GT Series because there are a lot of good drivers and this is a very good and tough competition."
TOP 10 STARTING POSITIONS FOR QUALIFYING RACE
1. PRO Rosina/Basseng Reiter Lamborghini 1m49.595s
2. PRO Stippler/Sandstrom Belgian Audi Club Team WRT Audi 1m49.600s
3. PRO Mayr-Melnhof/Jarvis Belgian Audi Club Team WRT Audi 1m49.670s
4. PRO Parente/Loeb Sebastien Loeb Racing McLaren 1m49.746
5. PRO-AM Campanico/Ammermuller Team Novadriver Audi 1m49.776s
6. PRO Bueno/Khodair BMW Sports Trophy Team Brazil 1m49.939s
7. PRO Ortelli/Vanthoor Belgian Audi Club Team WRT Audi 1m50.087s
8. GENT Sdanewitsch/Rugolo AF Corse Ferrari 1m50.715s
9. PRO Day/Dusseldorp HTP Gravity Charouz Mercedes 1m50.392s
10. PAM Ordonez/Buncombe Nissan GT Academy No Time