The Slovakia Ring hosted the fourth round of the FIA GT Series which went down this past weekend. Over twenty thousand fans came to see the action live at the ring, with one notable performance being that of Sebastien Loeb who scored pole position in the Loeb Racing McLaren 12C. Sadly, he did not complete even one lap of the race.
The winner of the race was the No.3 HTP Gravity Charouz Mercedes SLS AMG GT3 which led for most of the race. It was racing in the PRO-AM class. This was a win that effectively changed the norm of the game which is usually dominated by PRO-Cup drivers. The car was driven by Andreas Simonsen (SWE) and Sergei Afanasiev (RUS).
Behind the Mercedes which finished first was a pack of WRT Audi R8 LMS cars that were hungry for the podium. They fought hard and in the last minute a thrilling finish from the Audis saw them rearrange themselves to complete a 1-2-3 finish in the PRO-Cup. Laurens Vanthoor and Frank Stippler showed a last minute fight. Stippler was to finish third overall but the win was snatched away by a witty Vanthoor in the last minute.
The race started with a caution after Loeb was caught up in an incident involving the Lamborghini Blancpain Reiter and Alon Day (ISR) – HTP Gravity Charouz Mercedes. Loeb suffered a puncture which led to a fire in his left wing and he was forced to retire alongside the Mercedes and Lamborghini. Nevertheless, another Loeb Racing McLaren 12C was still on the track and it finished 7th overall and 5th in the PRO-Cup under the control of Zuber and Parisy.
In the GTR class, the best placed car finished 11th overall in the form of the AF Corse Ferrari 458. The 2nd position in the GTR class went to SMS Seyffarth Motorsport Mercedes SLS AMG GT3 while 3rd position went to HTP Gravity Charouz Mercedes SLS AMG GT3.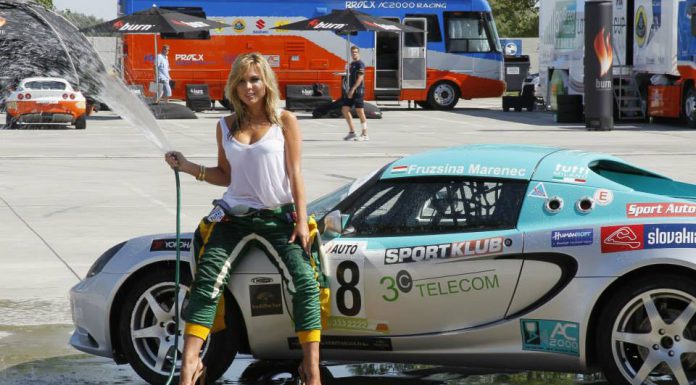 Main Race – Top Ten finishers
Pos/Cl Driver Team/Car
1. PAM Simonsen/Afanasiev HTP Gravity Charouz Mercedes
2. PRO Mayr-Melnhof/Rast Team WRT Audi
3. PRO Ortelli/Vanthoor Belgian Audi Club Team WRT Audi
4. PRO Sandstrom/Stippler Belgian Audi Club Team WRT Audi
5. PRO Zonta/Jiminez BMW Sports Trophy Team Brazil
6. PAM Proczyk/Baumann GRT Grasser Lamborghini
7. PRO Zuber/Parisy Sebastien Loeb Racing McLaren
8. PRO-AM Reip/Buncombe Nissan GT Academy Team RJN
9. PRO-AM Salaquarda/Onidi AF Corse Ferrari
10. PRO Chandhok/Seyffarth SMS Seyffarth Mercedes