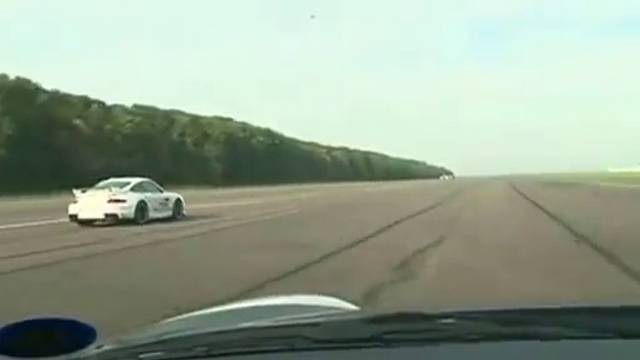 The blind world land speed record was broken earlier this week by Mike Newman, a previous record holder. Driving a Porsche 911 GT2, Mike Newman piloted the car to a top speed of 186 mph. He takes the record back again from Turkish pop singer Metin Senturk, who achieved 182 mph in a Ferrari F430 at GAP Airport in Şanlıurfa in April 2010.
Mike Newman was assisted in setting the record by his Speed of Sight foundation at Bruntingthorpe Proving Ground, in Leicestershire, UK. The 52-year-old now intends to get the blind water speed record in the same year. Experts verified the speed using a laptop linked up to satellites. It isn't yet official but the data will be sent to the Guinness Book of Records to authenticate.
[youtube]http://www.youtube.com/watch?v=GjsiuLstnmU[/youtube]
To achieve the top speed he drove without a passenger. He had a navigator who gave him information over a radio link, and it took several test runs during the day before a final speed was set.
The Porsche 911 GT2 is first of 10 specially-adapted track cars built by Mike Newman's Speed of Sight foundation. It has been fitted with dual controls, twin steering wheels, hand controls and a hoist to assist people in and out of the car if required. He said that he hoped to "give other people the excitement I've enjoyed today with the cars we're building".