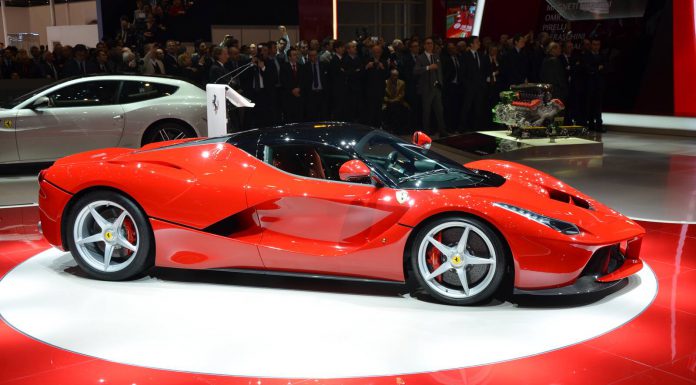 If you follow European Football (or Soccer to our American readers) you won't have failed to notice that Cristiano Ronaldo, Real Madrid forward, recently signed a new contract with the club for a record €21 million salary. Being a keen Ferrari fan (and having crashed at least one 599 GTB), rumours are circulating that he has placed a downpayment on a LaFerrari.
The rumours are quite precise as they reveal he has opted for his car to be finished in Blue. It is thought that the order has been placed with a Portuguese Ferrari dealership ready for collection once deliveries begin early next year. With his new salary, the €1.3 million plus price tag is now well within his price range.
Ronaldo will get a limited edition supercar fitted with a 6.3 litre V12 engine supplemented with a KERS unit (called HY-KERS). The partial hybrid layout of the engine will deliver 950 bhp together with torque figures in excess of 900 Nm. Top speed will be in excess of 350 km/h (220 mph) wit a 0-100 km/h time of just under 3 seconds. LaFerrari is the first Ferrari since the controversial Bertone-styled 1973 Dino 308 GT4 not to have Pininfarina bodywork or other styling.
Ronaldo is thought to be part of an elite set of LaFerrari owners. When the car was initially released, Ferrari chief Di Montezemolo confirmed that owners must have had at least five Ferrari's in the past. We've seen Cristiano Ronaldo in two different Ferrari 599 GTB's before, a Ferrari 575 and a Ferrari 599 GTO. Perhaps he also has a 458 Italia or a California hidden away somewhere too?
Of course, Ronaldo isn't just a fan of the prancing horse. He took delivery of Lamborghini Aventador a while back and he has also been spotted in Porsche, Audi and Bentley's. Perhaps he has now become loyal to just one brand…
[Via DefensaCentral]