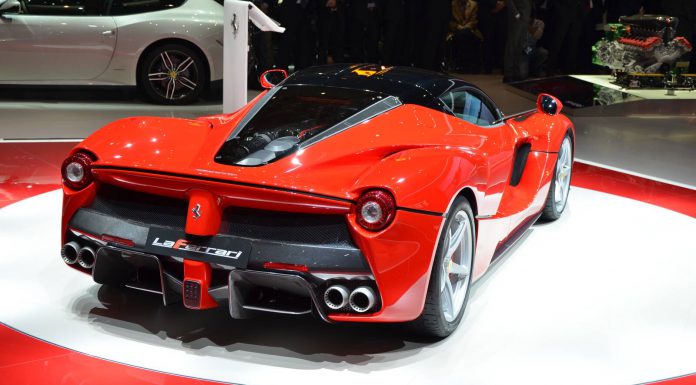 Ferrari have officially unveiled their replacement for the Ferrari Enzo at the Geneva Motor Show 2013. We have the first live photos! The Ferrari LaFerrari is one of the most anticipated cars of the year. It's amazing that the design has been kept such a closely guarded secret until now. We sent a photographer to capture the action.
The Ferrari LaFerrari gets a 6.3 liter V12 which is connected to an electric motor similar to the system on the McLaren P1. The Ferrari F150 V12 has an output of 800hp at 9.000 RPM and 700Nm at 7.000 RPM while its electric motor has a maximum output of 163hp and 270Nm of torque. That delivers a total combined power output of 963hp, allowing the new Ferrari Enzo to do 0-100 km/h in less than 3 seconds, 0-300 km/h in 15 seconds and a top speed in excess of 350 km/h.
The Ferrari LaFerrari is styled for maximum performance. It features a deep front vent, harking back to Ferrari's iconic 'F' series cars. The sides are also sculpted with deep voids along the side flanks. In all, the design is exactly as we would expect for a halo model Ferrari.
The Ferrari LaFerrari is said to lap Ferrari's Fiorano test track in less than 1 minute 20 seconds. That is five seconds quicker than the Enzo and more than three seconds quicker than the Ferrari F12 Berlinetta. Compared with the Ferrari Enzo, torsional rigidity is up 27 percent and longitudinal stiffness increases 22 percent, while weight goes down by 20 percent.
We can't change the name, but Ferrari LaFerrari itself is definitely an attractive package!