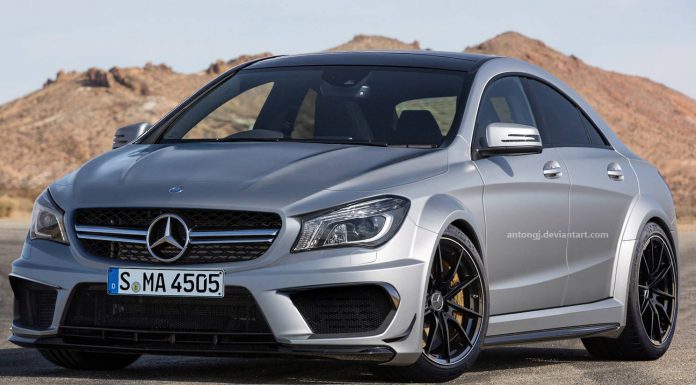 The 2014 Mercedes-Benz CLA 45 AMG has received some mixed reviews, some saying that the slightly softer set-up of the CLA has resulted it loosing the edge that makes the A45 AMG such an effect and sharp car. When we tested the 4 cylinder turbo-charged pocket rocket, we could certainly tell the difference. The render you see here of what the CLA 45 Black Series could potentially look like, a car that should, if made, be certain to iron out any softness that critics of the car had if old Black Series cars are anything to go by.
Raspy, shouty, loud, brash, aggressive, swollen, angry, just a few terms that have been given to the Black Series cars of old. The special division at AMG that produce these monster editions of essentially normal cars, such as the CLA, adapt, change and tinker with almost all parts of the 'basic' AMG cars. Changes often include a number of engine, transmission and exhaust parts but the body is where BS cars really set themselves apart from the rest. Wider body panel, scoops, tips, wiglets, spoilers, wheels, the entire works, hours of painstaking design and deliberation go into creating the hardcore machines that are badged Black Series, the title sounding aggressive alone.
Back to this render of the CLA, it has taken cues from a number of different AMG and Black creations. To start, the outrageous bonnet lines and flared wheel arches are reminiscent of the ludicrously menacing C63 Black. The wheels, front wiglets and lips running along the inside of the air intakes all are taken from the SLS Black, one of the most intimidating cars on sale today.
We hope that AMG and the Black Series department do create a CLA Black and we hope even more that it looks something like this fabulous render as it presents the perfect balance between the slightly conservative CLA 45 AMG and the comical CLA racecar!
Render by Anton Gjorsev from Skopje, Macedonia