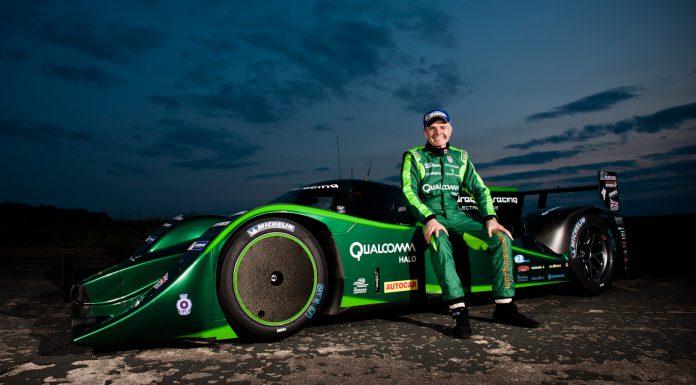 Just a few months after Lord Paul Drayson set a new world land speed record for an electric car under 1000kg, he has confirmed plans to take the Drayson Racing B12 69/EV to the Bonneville salt flats to better his own world record.
As you may recall, the previous FIA-sanctioned British top speed record for an electric vehicle weighing under 1000kg was set last September at an impressive 151.6mph. That however, is still some way from the former overall world record of 175mph set almost 40 years ago. But when Lord Drayson hit the Elvington airfield in the U.K. in June he managed to reach an average top speed of 204.185mph from two one-mile runs.
The car used in the run was the Drayson B12 69/EV created by Drayson Racing Technologies in Oxfordshire, United Kingdom which features a completely unique electric powertrain. This system includes a 30kWh battery covered with a carbon fiber cell. This is then combined with four electric motors, two for each rear wheel. As a result, the Drayson B12 69/EV produces around 800hp and can hit 100mph in about 5 seconds.
While the current record is very impressive, Lord Drayson believes the Bonneville saltflats will provide the perfect space to fully explore the car's potential. "Back in June, the relatively short runway at Elvington limited our top speed as we had to brake as the car was still accelerating. We are looking forward to discovering just how fast the car can go on the wide-open spaces of the Bonneville salt flats, although its been a major engineering challenge to prepare the car for running on salt," he said.
"The development of lightweight car technology is a key part of the drive to bring electric cars to market with the range and performance that consumers expect. That is why we are focused on the sub-1000kg category for the EV world record. It presents the greatest technical challenge to engineer a car that weighs under 1000kg, goes over 200mph and is purely driven by sustainable electric energy."
[Via Autocar]