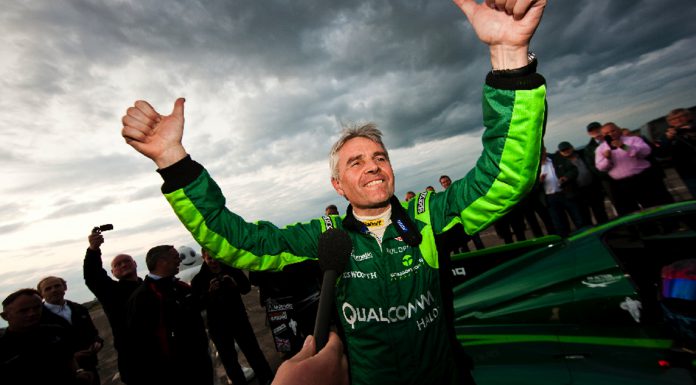 After former science minister in the U.K. Lord Paul Drayson announced plans to set a new land speed record for electric cars under 1000kg in his unique Drayson B12 69/EV last month, we were eagerly anticipating news about the record-attempt. And that news has finally come with confirmation Drayson managed to reach an average top speed of 204.185mph in two one-mile runs at Elvington in the U.K.
The previous FIA-sanctioned British top speed record for an electric vehicle weighing under 1000kg was set last September at an impressive 151.6mph. That however, is still some way from the former overall world record of 175mph set almost 40 years ago.
Upon breaking the record, Drayson said, "What we've achieved shows that EVs can be fast and reliable – and that the UK can be a leader in such technlogy. This project was set up as a test bed for EV technology, and we've shown what can be achieved by running it at an extreme level.
"The real challenge has been accelerating a 1000kg electric vehicle on a short runway over a measured mile, rather than the outright top speed. On the last run I had to use all the braking area to get the car stopped. It really was tight for space."
The car used in the run was the Drayson B12 69/EV created by Drayson Racing Technologies in Oxfordshire, United Kingdom which features a completely unique electric powertrain. This system includes a 30kWh battery covered with a carbon fiber cell. This is then combined with four electric motors, two for each rear wheel. As a result, the Drayson B12 69/EV produces around 800hp and can hit 100mph in about 5 seconds.
[Via Autocar]