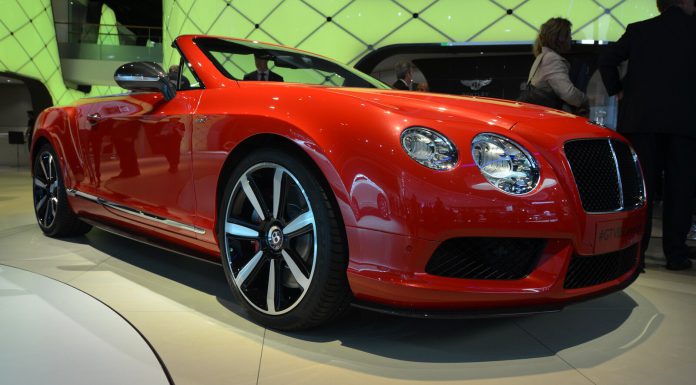 Sitting next to its Coupé brother at IAA Frankfurt Motor Show 2013 is the Bentley Continental GT V8 S Convertible, the latest in the British brand's Continental range. Much like the Continental GT Speed Convertible we saw earlier in the year. The Continental GT V8 S Convertible ditches the GTC moniker that Bentley adorn to the standard V8 and W12 models. We took a closer look to see what's different.
The Bentley Continental GT V8 S Convertible uses the exact same engine as the Coupé version with 521 bhp at 6000 rpm. The V8 S Convertible is 0.2 seconds slower to 60 mph due to a small amount of extra weight, as you would expect with any convertible structure. The Convertible also has a slightly lower terminal speed of 191 mph. Visual differences are limited to an additional front splitter, side sill extensions, 20 inch alloy wheels and a rear diffuser. It sits 10 mm lower to the ground than its smaller sibling with increased spring rates (45 per cent front and 33 per cent rear), stiffer bushes and anti-roll bars to provide sharper handling.
The Bentley Continental GT V8 S Convertible retains the ZF 8-speed automatic gearbox and four-wheel drive. The four-wheel drive system comes with a default 40/60 front rear torque split in all Bentley Continental models. Despite the increased power fuel consumption and CO2 emissions are unchanged. Customers can expect figures of 26.8 mpg and 246 g/km which will undoubtedly attract the attention of those contemplating the W12 Continental.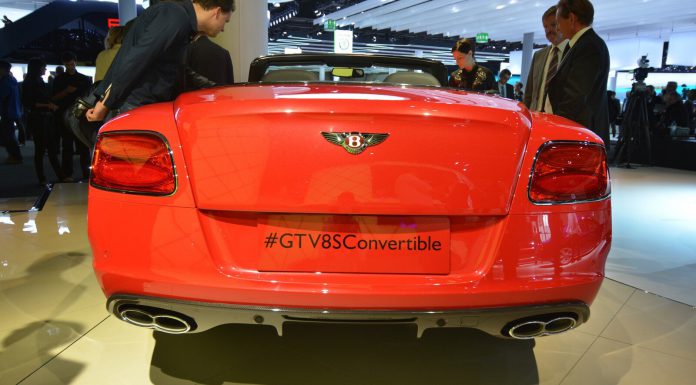 For more details on both the Bentley Continental GT V8 S Coupé and Convertible click through to our earlier article.