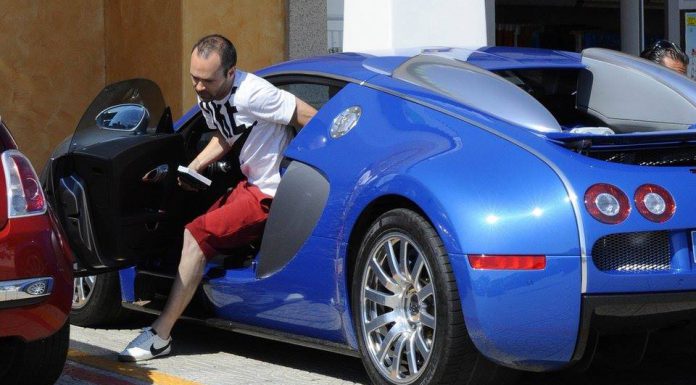 After the record €100,000,000 Gareth Bale Real Madrid transfer, its clearer than ever that top league players are not short of money. Football stars are some of a very few people who have the ability to buy pretty much any car that takes their fancy between training sessions and dating celebrities. After seeing David Beckham in a blacked out McLaren 12C Spider we find Barcelona Midfielder Andrés Iniesta testing a very good looking Bugatti Veyron. Details are scarce but rumor has it that it was for a test drive. Could we see the Spanish superstar cruising the street of Barcelona and Las Ramblas in the hypercar in the near future?
The Bugatti Veyron packs some mega performance. The Veyron features an 8.0-litre, quad-turbocharged, W16 cylinder engine, equivalent to two narrow-angle V8 engines. This engineering masterpiece produces 987bhp (1001 metric house-power). This immense power combines with the superb four wheel drive system to launch the Veyron to 60mph in 2.4 seconds and more importantly to the incredible 254mph top-speed.
Until we see more of Iniesta in a Veyron here's a gallery of one that we think Mario Balotelli (his Ferrari F12 was recently covered in toilet paper!) would like!