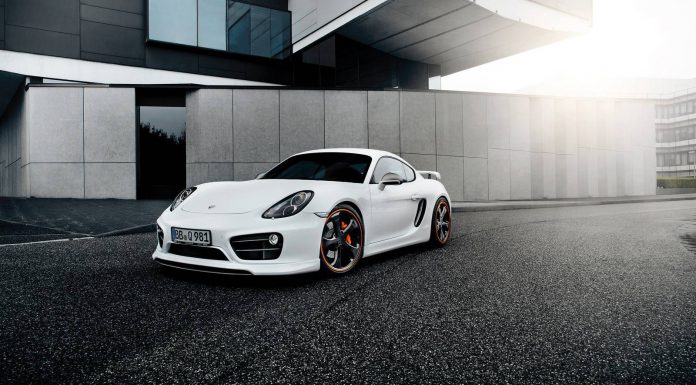 TechArt are ever expanding their model range of tuned cars and have, in addition to their Cayman program, released their Porsche Cayman S program which is due to debut along side the TechArt GrandGT, the companies interpretation of the Panamera Turbo, at this years Frankfurt motor show.
As with their other projects, TechArt offers a radical Aerodynamic Kit, featuring their adjustable rear spoiler II, front splitter, trim bars, side mirrors and rear diffuser. These customisable aerodynamically formed pieces come together to further increase the aggressive looks of the Caymans S.
In terms of performance the TechArt Cayman S is very similar to the already very potent standard car but includes the TechArt Sport System Exhaust complete with valves that open and close subject to the owners input. A TechArt muffler is also available if chosen.
As usual there are also a variety of wheel choices to complement the cars appearance, the TECHART Porsche Cayman is set on 21 inch wheels where drivers can choose between the Formula light alloy wheels in 5 spoke design or the Techart Formula III forged wheels in twin spoke design. The finishes are vast to choose from high gloss ceramic polishing and bi-color options complete with the optional orange lip. The stance of the car is also enhanced using the Sport Spring Kit, lowering the car by up to 30mm. Brake calipers are also customisable as standard painted orange complete with the TechArt logo.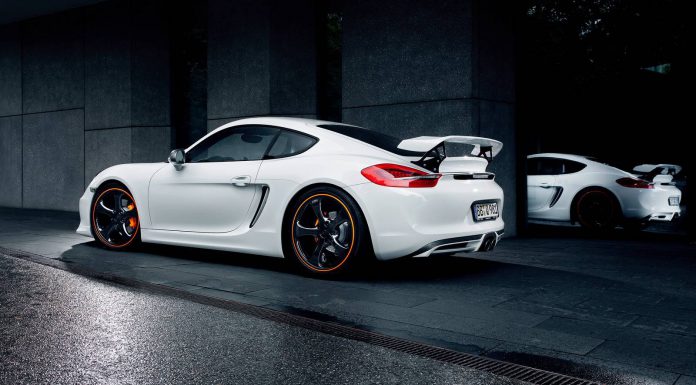 The interior is also in accordance to Techart styling thanks to the in-house saddlery at Techart. This means leather interior options with stitching, lacquered surfaces, carbon fiber trims and the manifold interior styling packages. Drivers will further the Techart 3-spokes sports steering that comes with paddle shifters from the tuner. These paddle shifters can be retro-fitted on all Porsche steering wheels and multifunction steering wheels with PDK gearshift switches.