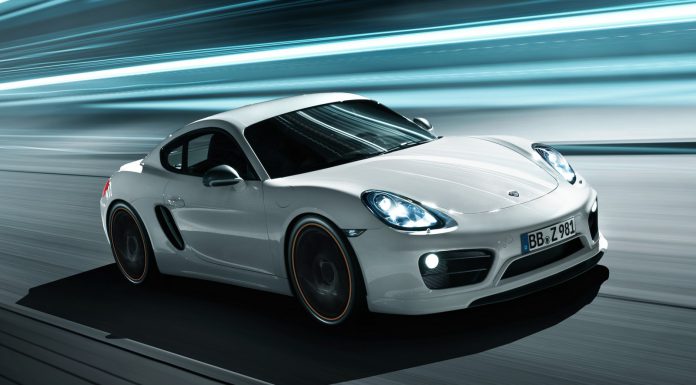 Techart has today released their individualisation program for the new Porsche Cayman.
The Techart Porsche Cayman gets a new front apron that includes a Techart two-part front spoiler, integrated splitter and also the central air duct which is now bigger. There are new trims on the side mirrors with upright fins fitted in the side air intakes at the rear wheels arches. The program also comes with a Techart rear spoiler, a rear diffuser where the Techart sports tailpipes are fitted.
As for the airflow, there are two exhausts systems namely the Techart sports exhaust muffler or the new Techart sports exhaust system with valve control allowing the driver to play around with the sportier sound.
The Techart Porsche Cayman is set on Techart 21 inch wheels where drivers can choose between the Techart Formula light alloy wheels in 5 spoke design or the Techart Formula III forged wheels in twin spoke design. The finishes are vast to choose from high gloss ceramic polishing and bi-color options. The suspension system features a Techart sport spring kit that lowers the ride height by 35mm compared to the standard suspension and by 25mm compared to the PASM suspension kit.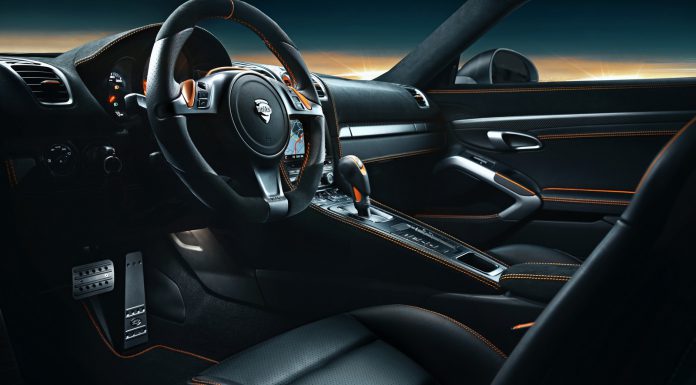 The interior is also in accordance to Techart styling thanks to the in-house saddlery at Techart. This means leather interior options with stitching, lacquered surfaces, carbon fiber trims and the manifold interior styling packages. Drivers will enjoy more with the Techart 3-spokes sports steering that comes with paddle shifters from the tuner. These paddle shifters can be fitted on all Porsche steering wheels and multifunction steering wheels with PDK gearshift switches.