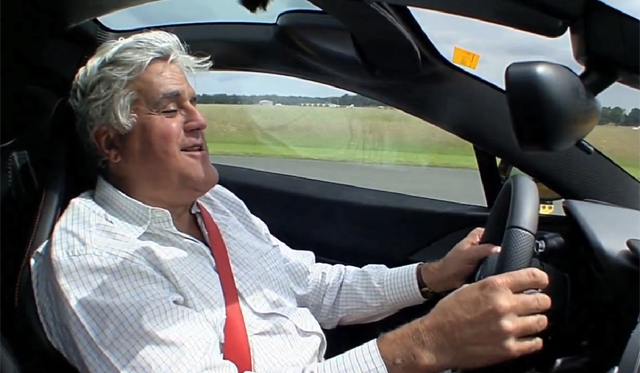 While attending Monterey Car Week 2013, Jay Leno was fortunate enough to drive the production-ready Porsche 918 Spyder. However, as it turns out, the 918 Spyder isn't the only new hypercar Leno's been testing as he recently flew to the U.K. to drive the all-new McLaren P1. More specifically, he ventured to the Top Gear test track and confirmed that he has indeed purchased one of the 375 McLaren P1s being produced.
The following video was put together for The Sunday Times in the U.K. and features Leno taking us on a small walk through the production facility of McLaren Automotive. Before long, Leno hops in the seat of the McLaren P1 and becomes the first person outside of McLaren to be handed the keys the P1. However, we think other future customers have also been on secret test drives.
Nevertheless, the short review includes some stunning tire-smoking action as Leno speeds around the Top Gear test track exploring the various driving modes of the P1. He even samples the pure electric mode which is enough to rocket the P1 all the way to 100mph.
As for Leno's future McLaren P1, he reveals that he purchased it in bright yellow and reports suggest that his car could be available for delivery in the coming days. In fact, it appears like Jay Leno's McLaren P1 could be the very first customer car produced.
It's quite fitting that Leno has purchased a McLaren P1 as he also owns its predecessor, the McLaren F1. However, he also owns the predecessor of the Porsche 918 Spyder, the Carrera GT, and we think it'd be very fitting if he purchased a 918 as well!
[Via The Sunday Times]