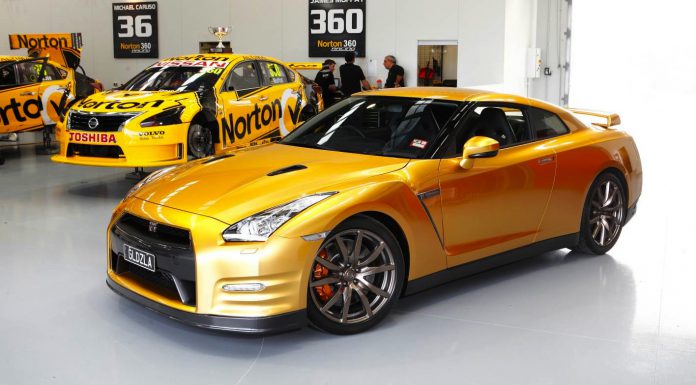 If you cast your mind back to late last year, you may recall that a unique gold 2014 Nissan GT-R was being offered on eBay to help celebrate the successes of Usain Bolt at the London Olympics. Well, the highest bidder from Victoria, Australia recently received the one-of-two Japanese supercar.
When the auction ended, Rod Maher came out the highest bidder coughing up just over $187,000 for the unique vehicle. As we know, the second gold Nissan GT-R is owned by Usain Bolt himself.
In addition to the unique paintwork, the 2014 Nissan GT-R Usain Bolt Edition features Bolt's signature on the glovebox, 10-spoke aluminium RAYS forged wheel, a real gold commemorative plate and a Bose audio system.
[youtube]http://www.youtube.com/watch?v=oYXnYF_Cw3s[/youtube]
All proceeds raised from the auction are going straight to the Usain Bolt Foundation to help create opportunities for Jamaican children.
After receiving his new GT-R, Maher said, "I want to take good care of it but I do like my country trips and I'd really like to take it our around Victoria.
"My girlfriend's in Perth and I spend half my time over there, so I'm contemplating doing a trip across the Nullarbor, and this would be the car to do it in I think.
"[The money is] going to a good cause over in Jamaica, so really happy that kids are going to be helped out through it."