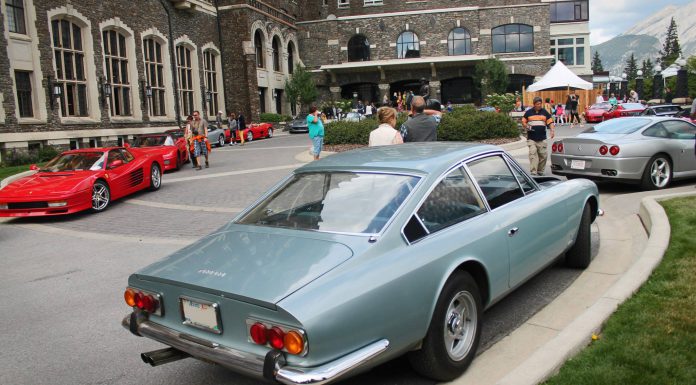 On Sunday, August 25th, the Ferrari Club of America – Alberta Chapter, met in a parking lot in North-West Calgary for their final pulic group drive of the season. The destination for the drive was the mountain town of Banff for brunch. The route, a spectacular drive from the prairies, into the foothills and into the Rocky Mountains.
Sarhan A Photography was present at the launch location to capture the supercars leaving on their epic journey into the Rockies to conclude the summer driving season. F40 Photography awaited the arrival of the Ferrari Club at the Fairmont Banff Springs Hotel to capture their entrance.
The drive brought together enthusiasts from all over the city, driving Ferrari's ranging from 360's to an F50.
The Ferrari Dino GT that made an appearance at Distinctive Collection a few days ago was present on the drive as well as a rare 348 Series Speciale (1 of 100 ever made) and a Tesarossa.
The Ferrari Club of America – Alberta Chapter, prides itself in being a driving club. They do regular drives throughout the season, and it's nice to see such rare cars as the Dino GT and F50 leading the pack of Ferrari's rather than spending the rest of their days in a showroom or garage.
Sarhan Ahmed took a video of the FCA – Alberta Chapter, departing Calgary. You can view the parade of Ferrari's heading off to Banff here:
[youtube]http://www.youtube.com/watch?v=G3_TFT1EIO8&[/youtube]
Follow the FCA – Alberta Chapter on Facebook!