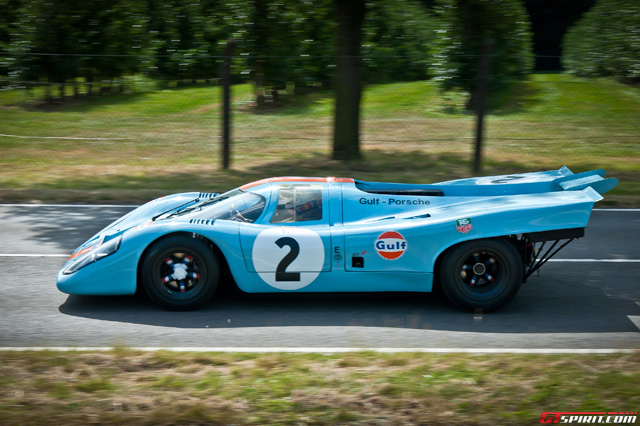 For the eighth time, the prestigious Schloss Dyck water castle just west of Düsseldorf opened it gates for the Classic Days. Sometimes referred to as the German equivalent to Goodwood, this annual event held the first weekend of August welcomed more than 27.000 visitors and an amazing collection of classic cars despite the heat, which soared to 37°C on the first day.
A great variety of classic cars were present at the Classic Days, from which many lapped the three-kilometer long course around the 900-year old castle. Among these were the famous Porsche 917 Kurzheck, which was made into a movie star by Steve McQueen in his 1971 film Le Mans. Also finished in the famous blue and orange Gulf livery was the iconic McLaren F1 GTR Long Tail, which was on display together with the successful McLaren MP4/5 in which Alain Prost won the 1989 championship following the (in)famous collision with teammate Ayrton Senna.
Other racing cars at Schloss Dyck included the Alfa Romeo 155 V6 TI, which dominated the 1993 DTM season. The Italians also showed the new 4C, and the Alfa Romeo Tipo 33/2 Le Mans which was used in endurance racing in the Sixties. Peugeot presented the 205 T16, one most successful cars to compete in the last two years of the World Rally Championship's Group B era.
Toyota brought the TF108 to the gardens surrounding the castle, which pleased the public with the noise coming from its 2.4-liter V8 engine. Furthermore Mercedes-Benz presented the 300 SEL 6.8 AMG. The famous AMG became an instant classic when it won its class in the 24-hour race at Spa-Francorchamps in 1971 and also claimed second place overall — quite impressive considering its weight and size.
An other interesting car was the propeller-powered by Marcel Leyat's Hélica, known as "the plane without wings". This remarkable car even made onto the road as Leyat managed to sell 30 vehicles. More classic cars at the Classic Days will be covered the next time, enjoy browsing through the gallery showing some highlights of this great event!