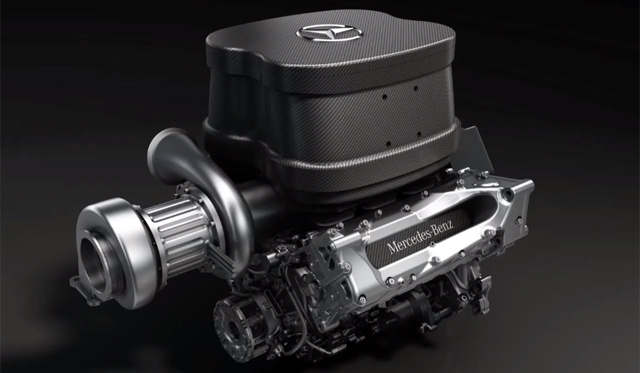 Mercedes AMG has just released a simulator video of its 2014 Formula One six-cylinder turbocharged variant giving us our best listen to how Formula One cars will sound from 2014 onwards. The following video involves a simulated lap of Monza and the engine noise was recorded while the powerplant was mated to a dyno system.
The turbocharged 1.6-liter V6 engines set to debut in Formula One next season will replace the current V8 systems which a few years back, actually replaced larger V10 engines. However, when moving from V10 to V8 engines, the insane engine sounds were largely maintained but unfortunately, the same cannot be said for the new forced induction engines.
The current V8 engines feature a redline of 18,000rpm, have two exhaust pipes serving four cylinders each and no restrictions to the exhaust system thus making them some of the loudest vehicles on four wheels. However, for next year's V6 engines, they'll be a single exhaust pipe with all six-cylinders feeding into it. Combine that with a lower 15,000rpm redline and the typical lack of noise developed by turbocharged vehicles and you essentially have the differences between the pair.
The only three manufacturers to produce Formula Ones engines next year will be Mercedes AMG, Renault and Ferrari with each system set to deliver a peak of 750hp with 600hp of that coming from the 1.6-liter V6 engine itself while the remaining power can be found through the redesigned KERS system.