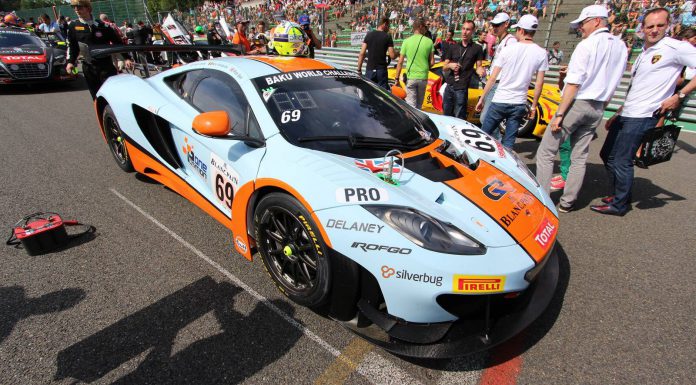 The 24 Hours of Spa 2013 has gotten off to a flying start. The weather held out for a fantastic start to the annual endurance race. Having qualified in first yesterday, the number 99 Aston Martin Vantage GT3 of Beechdean AMR took pole position. To its left sat the Ferrari 458 Italia of SMP Racing and in third, the Mercedes-Benz SLS AMG GT3 of HTP Motorsport.
The grid was an impressive place to be. All the major supercar manufacturers were represented. Throughout the race we will be supporting the combined McLaren effort so it was refreshing to see the Hexis Racing McLaren 12C GT3 in tenth position. The next best McLaren qualifier was the Von Ryan Racing McLaren 12C GT3 piloted by McLaren test driver Chris Goodwin, ex-Formula 1 superstar Bruno Senna and Rob Barff.
So far, the racing has been fairly clean, driver changes have happened and the number 3 car, a BMW Z4, current leads the order! Eau Rouge has claimed a few victims, the first was a Ferrari 458 Italia, one of the front runners which spun at the open. It managed to avoid a major collision and As I write, the Reiter Engineering Lamborghini Gallardo has just spun into a wall triggering a second safety car period.