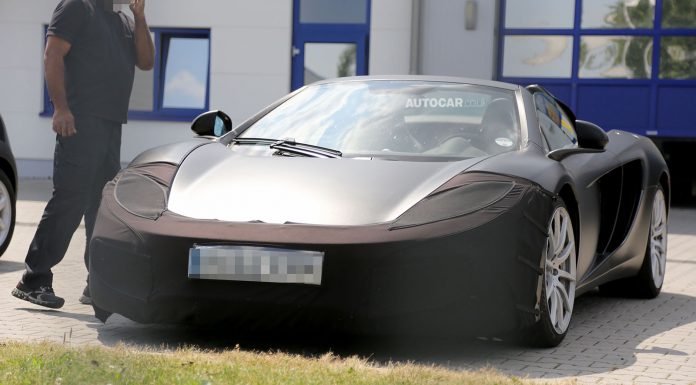 Just a day after new images of the facelifted 2014 McLaren 12C Spider emerged, confirmation has reportedly come from McLaren itself that the prototype isn't in fact a new 12C, but is in fact the upcoming McLaren P13 set to become the baby of the McLaren supercar family.
The so-called McLaren P13 will become the third model in McLaren's line-up, following on from the McLaren MP4-12C and McLaren P1 and as expected, it will share many of its components with its bigger brothers. What this means is that the McLaren P13 will be constructed out of a one-piece carbon fiber monocoque, just like the McLaren MP4-12C and McLaren P1 and is also expected to maintain McLaren's flagship 3.8-liter twin-turbocharged V8 engine.
When combined with the electric drivetrain in the P1, this potent powerplant can produce over 900hp, and when left alone in the MP4-12C, it produces 616hp. However, McLaren will detune the 3.8-liter V8 to around 500hp, putting it right in line to compete with cars such as the Porsche 911 Turbo and Porsche 911 GT2.
The McLaren P13 won't be debut until 2015 at the earliest where a selection of additional variants will then be released from then on.
With all this being said, McLaren's openness in revealing testing of the McLaren P13 leaves us enormously surprised. Is McLaren telling us the truth, or simply lying to cover up the McLaren 12C's 2014-spec facelift? Let us know your thoughts below!
[Via Autocar]