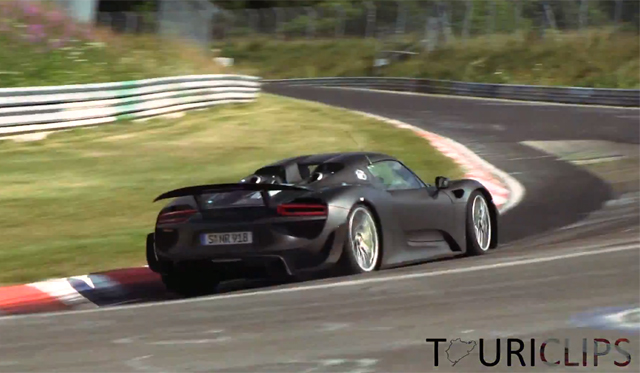 Just a few days after a silver McLaren P1 prototype was spotted doing the rounds at the infamous Nurburgring in Germany, one of its closest competitors, the Porsche 918 Spyder has been spotted undergoing rigorous testing at the demanding circuit also.
This particular prototype was finished in a nice shade of matte black fitted with the Weissach performance package and can be seen speeding through the little Karussel and Galgenkopf corners on the Nurburgring with its hybrid V8 engine emitting quite an impressive sound.
When first released as a concept car back in 2010, the Porsche 918 Spyder was believed to produce 795hp, but recent reports suggested that on the back of the 900hp+ LaFerrari and McLaren P1 being revealed, the Porsche 918 Spyder would feature an insane 875hp when it hits the production line.
However, in a recent Chris Harris on Cars video, it's been revealed that the Porsche 918 Spyder produces 887hp and over 920lb-ft of torque! That horsepower figure puts it slightly behind the McLaren P1 and LaFerrari, but the torque output is significantly more than the 664lb-ft of torque of the McLaren P1 and LaFerrari.
Additionally, in an interview with Porsche's product manager James Eastwood, it's been revealed that Porsche believes that under the right circumstances, the 2014 Porsche 918 Spyder will be faster than the McLaren P1 and LaFerrari primarily through the corners because of its advanced torque-vectoring system.
Porsche is also keen to show the performance capabilities at the Nurburgring, reportedly coming close to a time of 7:14 late last year. However, since then, the car has undergone significant performance modifications and should comfortably beat the 7-minute mark soon.