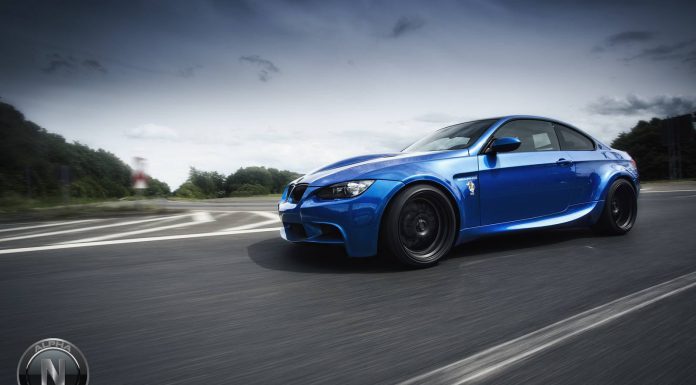 Say hello to the Alpha-N Performance BMW M3 BT92 4.6! The fancy name for the BMW E92 M3 project made by ALPHA-N Performance from Bad Neuenahr. The German company increased the engine capacity of the M3 to 4.6 liters and with that increased the output to 490hp and a maximum torque of up to 470Nm.
On the outside the Alpha-N Performance M3 BT92 comes with a widebody kit that redefines every aspect of the M3 exterior. The package also contains a new engine hood and a new luggage compartment cover. ALPHA-N is also constructing new wheel house liners made of Kevlar. On the inside its blue alcantara that makes the BT92 stand out from the crowd.
In terms of motorization, ALPHA-N has a few options for its customers: In addition to the conventional suction tuning of the S65B40 high-torque engine, the offer covers several variations of the "supercharge" or even complete engine swap. The eight-pointer version of the vehicle in the photo here was endowed with cubic capacity upgrade that elevated it to a good 4.6-liter capacity through a new crankshaft as well as new pistons and connecting rods.
The software of the electronic control unit was also adapted to the new situations. Having been thus fitted, the driving gear commands a peak of 490 Horse Power and a maximum torque of up to 470 Newton-meter. At top speed, the BT92 4.6 presses its distinctive nose against the wind with more than 315 km/h. Alpha-N fitted the BMW M3 BT92 with Öhlins Road & Track-running gear and performed the precise alignment of the suspension and the wheels.