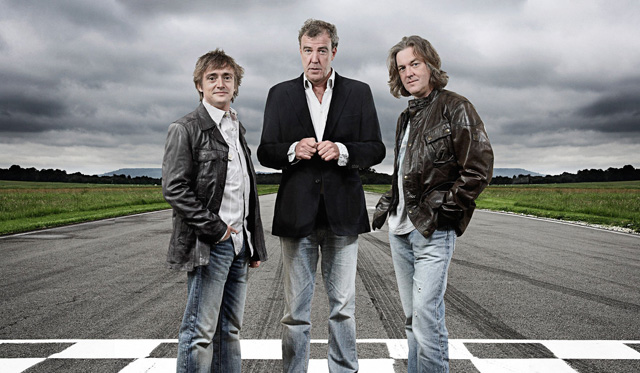 Top Gear returns tonight with the fourth episode of Season 20! This episode is all about water, with floods ravaging Europe frequently the three Top Gear presenters go out on a quest to build the ultimate hover-car. As always you can expect Jeremy, Richard and James to build some hilarious cars that can turn into a hovercraft.
When completed the Top Gear hover-cars are put to the test on the river Avon in South-West England. This river also saw the birth of the Avon Inflatables, a company that produced over 200,000 inflatables and RIBs since 1959. But if the Top Gear creations will also go down in history as a success remains to be seen!
Back on the Top Gear test track Jeremy Clarkson tests the two latest variants of the Mercedes SLS AMG: the 622bhp SLS AMG Black Series and the 740bhp SLS Electric Drive, which is powered by four electric motors.
In Top Gear Season 20 Episode 4 Hollywood star Hugh Jackman is the star in the Reasonably Priced Car. Hugh Jackman is known for his long-running role as Wolverine in the X-Men film series.
You can see Jeremy Clarkson, Richard Hammond and James May on the telly with Top Gear Season 20 Episode 4 tonight 8pm at BBC2!
Top Gear Season 20 Episode 4 Trailer Video
Top Gear Season 20 Teaser Gallery