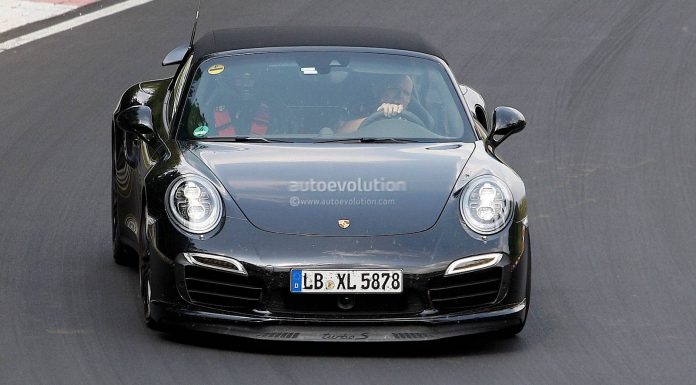 Just a few days after images emerged of the 2014 Porsche 911 Turbo Cabriolet testing at the Nurburgring undisguised, it's faster and more powerful sibling, the 2014 Porsche 911 Turbo S Cabriolet was spotted testing at where else but 'Green Hell'. As the following images show, this prototype was wearing absolutely no camouflage.
From a visual standpoint this Turbo S Cabriolet can be distinguished from the regular 2014 Porsche 911 Turbo Cabriolet prototype as it features a much larger rear wing as well as an additional front splitter with the 'Turbo S' logo.
As you would expect from any Porsche 911 convertible, it looks almost identical to its coupe counterpart with the exception of a fixed roof. Consequently, the 2014 Porsche 911 Turbo S Cabriolet features the same revised front fascia, quad exhaust pipe system, larger air intakes including the traditional Turbo side intakes just like the recently revealed 2014 Porsche 911 Turbo and 2014 Porsche 911 Turbo S models.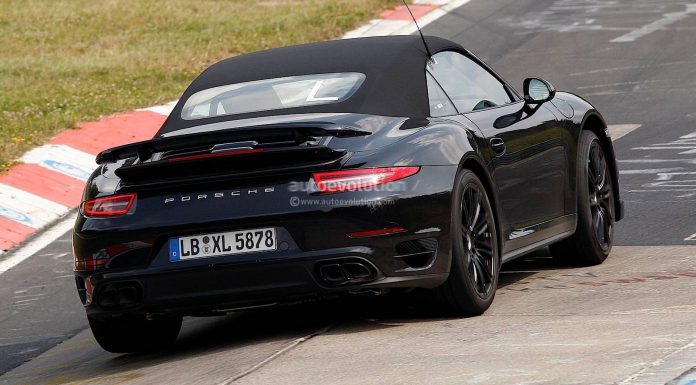 In addition to staying true to its coupe counterparts from a design standpoint, the 2014 Porsche 911 Turbo S Cabriolet will feature the same engine as the brand new Porsche 911 Turbo and Turbo S coupes. They are powered by a twin-turbo 3.8 liter, direct-injection and 6-cylinder boxer engine discharging 520hp in the turbo model and 560hp in the Turbo S model. The powerhouse in both cases is then mated to a 7-speed PDK transmission with a start-stop system.
[Via AutoEvolution]