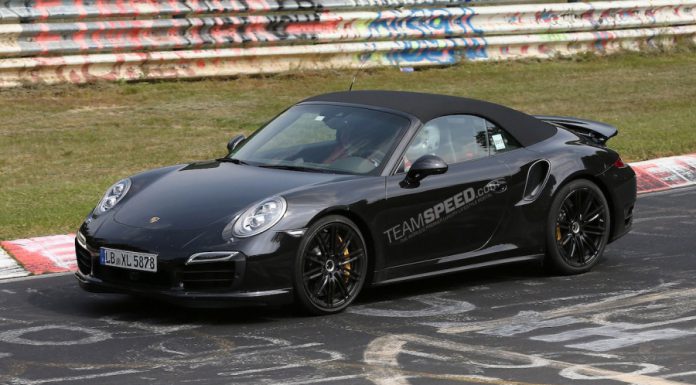 The upcoming 2014 Porsche 911 Turbo Cabriolet was recently spied testing at the infamous Nurburgring completely undisguised with two Porsche engineers in the cockpit. Because this particular 2014 Porsche 911 Turbo Cabriolet features absolutely no camouflage, it's likely that development of the high-performance Cabriolet is coming to an end meaning a debut is imminent.
As you would expect from any Porsche 911 convertible, it looks almost identical to its coupe counterpart with the exception of a fixed roof. Consequently, the 2014 Porsche 911 Turbo Cabriolet features the same revised front fascia, quad exhaust pipe system, larger air intakes including the traditional Turbo side intakes just like the recently revealed 2014 Porsche 911 Turbo and 2014 Porsche 911 Turbo S models.
In addition to staying true to its coupe counterparts from a design standpoint, the 2014 Porsche 911 Cabriolet will feature the same engine as the brand new Porsche 911 Turbo and Turbo S coupes. They are powered by a twin-turbo 3.8 liter, direct-injection and 6-cylinder boxer engine discharging 520hp in the turbo model and 560hp in the Turbo S model. The powerhouse in both cases is then mated to a 7-speed PDK transmission with a start-stop system.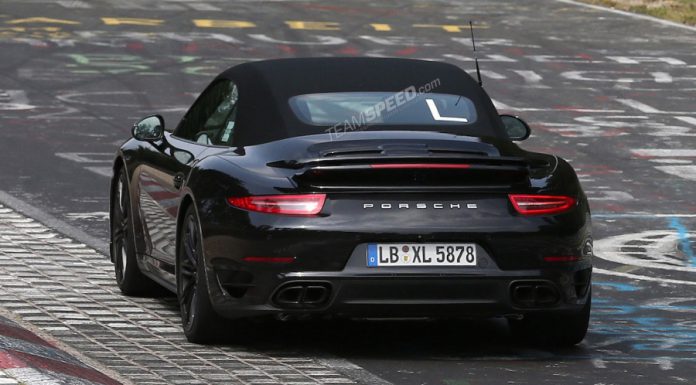 Porsche developed a new version of their PTM-Porsche Traction Management fitted to the four wheel drive system of these Turbo models meaning the Turbo model now sprints from naught to 100km/h in 3.2 seconds faster than the previous Turbo S by 0.1 seconds. The new Turbo S does the same in just 3.1 seconds and a top speed of 318km/h. Expect near identical figures for the cabriolet.
[Via Teamspeed]