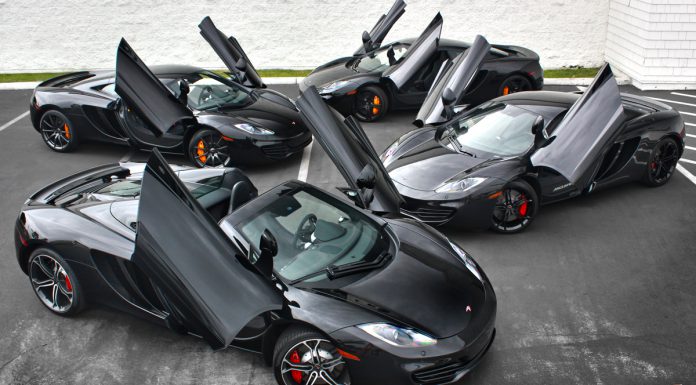 What's better than one stunning black McLaren 12C? Two black McLaren 12C's. What's better than two black McLaren 12C's? Three, but even better still is a group of four stunning black McLaren 12Cs and our latest Photo Of The Day features just that combo from McLaren Newport Beach.
The following image consists of three black McLaren 12C coupes and one McLaren 12C Spider. Each feature different wheels from the other with two featuring bright orange brake calipers while the other two featuring red calipers. No matter of the different exterior and interior options of these British supercars, all of them are stunning and all of them are insanely fast in a straight line, around a racetrack and comfortable enough for everyday driving.
The 3.8 liter twin-turbocharged V8 engine found in the 2013-spec McLaren 12C coupe and Spider features 616hp and 600Nm of torque which makes for a zero to 100km/h time of just 3.1 seconds The 2013 McLaren 12C coupe can then hit 200km/h in just 8.8 seconds and for the Spider to 200km/h it takes nine seconds. Top speed of the coupe is 332km/h while the Spider is 3km/h short to the fixed roof 12C at 329km/h.
Separating the 2013 McLaren 12C from its direct competitors like the Ferrari 458 Italia and Porsche 911, is its advanced carbon fiber MonoCell chassis. The complete cell weighs just 75kg and was designed with the convertible model in mind so McLaren didn't have to strengthen it in any way for the Spider.