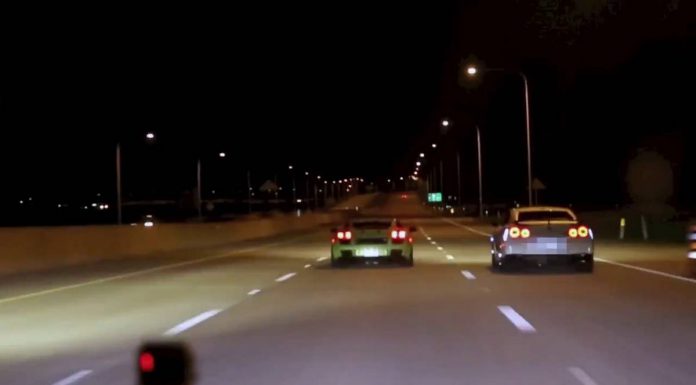 Project Yoda is the 1150+whp Lamborghini Gallardo we recently featured with a Dallas Performance Stage 2.5 Twin Turbo powerkit. This powerkit is rated at 1150+whp and uses a MoTeC ECU and milspec custom wiring harness. The project also features upgraded twin clutch, billet axles, and Dallas Performance billet helical transmission drop gears and billet transmission case work.
The 6-speed manual is owned by their very first Twin Turbo Gallardo customer. The same customer had to sell his first Gallardo in order to buy this Verde Ithaca variant and one with the very unique Nero Interior. The stage 2 tune that was fitted into it comes complete with forged engine upgrades which altogether deliver 1050whp on race gas. It also features their Stage 2 transmission upgrades with billet case upgrades and billet helical drop gears.
In this video, Project Yoda is raced against the famous Jotech HKS1000 Nissan GT-R that pushes 1000hp. Like you would expect, both cars being heavily tuned, the V10 would decimate the V6 at any given time. Both cars are mad fast and although they took them to the streets, they still managed to stretch their rev bands properly.
The modlist for Project Yoda is exhilarating; starting with the twin turbo system which features twin billet ball bearing precision turbos (Stage 3), tial V-band wastegate and tial blow off valves. Other details include the race core, air to water with custom fabricated tanks and fittings. It comes with a choice of two Exhaust options namely the Center Mounted Exhaust Option or the traditional dual exhaust.
More to come out of this project, for now, enjoy the video!