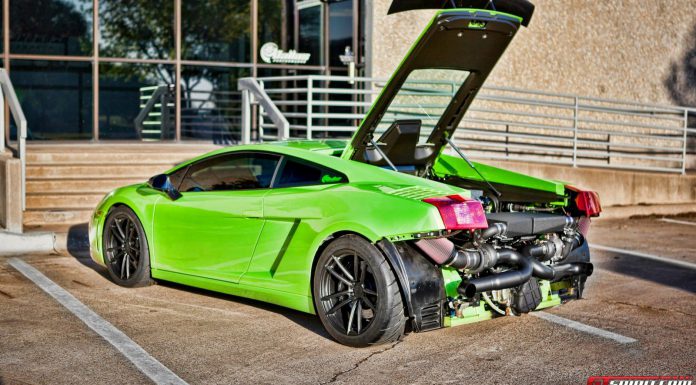 Dallas Performance has showed us several projects based on the Lamborghini Gallardo thanks to their various tuning packages, their latest project is even more unique as it features a Verde Ithaca Lamborghini Gallardo TT fitted with their stage 2 tune.
The 6-speed manual is owned by their very first Twin Turbo Gallardo customer. The same customer had to sell his first Gallardo in order to buy this Verde Ithaca variant and one with the very unique Nero Interior. The stage 2 tune that was fitted into it comes complete with forged engine upgrades which altogether deliver 1050whp on race gas. It also features their Stage 2 transmission upgrades with billet case upgrades and billet helical drop gears.
That's not the only package offered by the Texas-based tuner, there is a Stage 1 Twin Turbo System with stock engine rated at 650 whp with 93 octane fule or 800+ whp with E85 or VP C16 race fuel. It comes with a high flow sport exhaust system, cat delete pipes, high flow air inlet system, ECU custom mapping which with E85 fuel conversion adds an extra 40whp.
Stage 3 comes with a twin turbo system and a highly modified engine that gives 1,000whp on 93 octane and 1,200+ whp on E85 or VP C16 race fuel. The last ultra-option is the Stage 3R twin turbo system with race spec engine giving 1,000whp on 93 octane and up to 1,500whp with VP C16 race fuel.