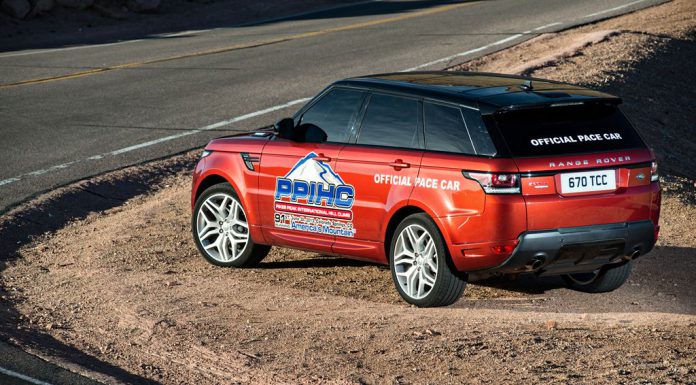 The new Range Rover Sport has been chosen as the official pace car for next Sunday's Race To The Clouds-2013 Pikes Peak Car Hill Climb Competition. This comes after the new British SUV set a new record for a production-standard Sport Utility Vehicle at the Pikes Peak. The new record is 12 minutes 35.61 seconds at an average speed of 59.17 mph (95.23 kph) on the 12.42-mile asphalt course, uphill!
It was U.S. Pikes Peak specialist Paul Dallenbach who drove it during the record setting event but as a pace car, it shall be driven by Gay Smith from Colorado Springs. Smith was in the 1974 Rookie of the Year 'at Pikes Peak. This year's event has 157 participants comprising of 70 cars and 87 motorcycles. There are drivers from 16 countries, including World Rally Champion Sebastian Loeb.
For those who may not understand the depth of the competition, the 12.42 mile course has 156 corners. The venue is in north-west of the town of Colorado Spring. The starting point is at an altitude of 9,390 feet (2,860 metres) above sea level and rises 4,720 feet (1,440 metres) all the way to 14,110 feet (4,300 metres). That means that the region has 58% oxygen only. In other words, the higher you go, the thinner the air and the car also performs poorly!
The new Range Rover made its debut at the New York Auto Show 2013. It features a 510hp 5.0-litre supercharged petrol V8 engine. It has emerged as Land Rover's fastest and most agile car model ever, thanks to the new improved terrain features. Weight saving is largely due to the use of aluminum- it's the first of its kind to feature an all-aluminum construction. It also comes with a new option of a 5 +2 seater interior configuration.
To catch all the action, tune in to Redbull TV on the internet on June 30, at 8:00 PM Mountain Daylight Time.