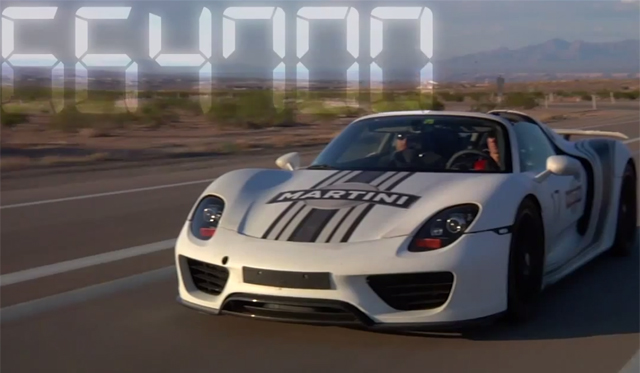 With the official debut of the production-ready Porsche 918 Spyder just months away at the upcoming IAA Frankfurt Motor Show 2013, Porsche continues to thoroughly test its latest supercar and has released the following clip showcasing high-speed testing conducted in the U.S.
The following video showcases the brand new 2014 Porsche 918 Spyder being tested in the Valley of Fire near Las Vegas, Nevada and also highlights how Porsche is approaching 1 million testing miles in its brand new, game-changing hypercar.
When first released as a concept car back in 2010, the Porsche 918 Spyder was believed to produce 795hp, but recent reports suggested that on the back of the 900hp+ LaFerrari and McLaren P1 being revealed, the Porsche 918 Spyder would feature an insane 875hp when it hits the production line.
However, in a recent Chris Harris on Cars video, it's been revealed that the Porsche 918 Spyder produces 887hp and over 920lb-ft of torque! That horsepower figure puts it slightly behind the McLaren P1 and LaFerrari, but the torque output is significantly more than the 664lb-ft of torque of the McLaren P1 and LaFerrari.
Additionally, in an interview with Porsche's product manager James Eastwood, it's been revealed that Porsche believes that under the right circumstances, the 2014 Porsche 918 Spyder will be faster than the McLaren P1 and LaFerrari primarily through the corners because of its advanced torque-vectoring system.