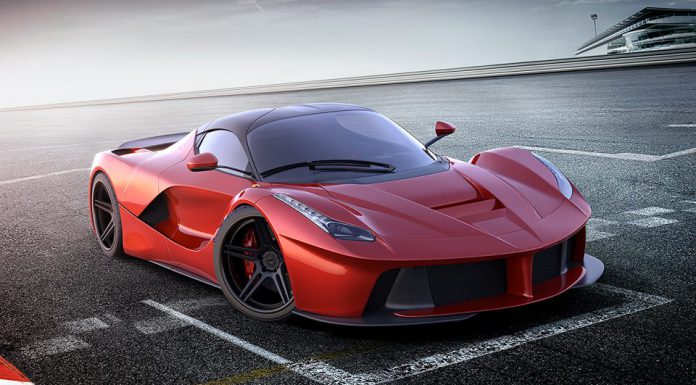 Even though it was recently confirmed that Ferrari isn't currently developing a more extreme, FXX version of its brand new 2014 Ferrari LaFerrari, Gurnade recently put together the following rendering of what a slightly modified LaFerrari would look like fitted with a set of ADV.1 wheels.
Separating this LaFerrari from the 'standard' car is the addition of a new carbon fiber front wing and carbon fiber rear wing, two components which certainly wouldn't look out of place fitted stock to LaFerraris in the coming years. Most prominently, the car is then riding on a unique set of five-spoke matte black wheels from ADV.1 wheels which complement the carbon fiber wings and black roof perfectly.
The Ferrari LaFerrari gets a 6.3 liter V12 which is connected to an electric motor similar to the system on the McLaren P1. The Ferrari F150 V12 has an output of 800hp at 9.000 RPM and 700Nm at 7.000 RPM while its electric motor has a maximum output of 163hp and 270Nm of torque. That delivers a total combined power output of 963hp, allowing the new Ferrari Enzo to do 0-100 km/h in less than 3 seconds, 0-300 km/h in 15 seconds and a top speed in excess of 350 km/h.
The Ferrari LaFerrari is styled for maximum performance. It features a deep front vent, harking back to Ferrari's iconic 'F' series cars. The sides are also sculpted with deep voids along the side flanks. In all, the design is exactly as we would expect for a halo model Ferrari.
[Via Gurnade]