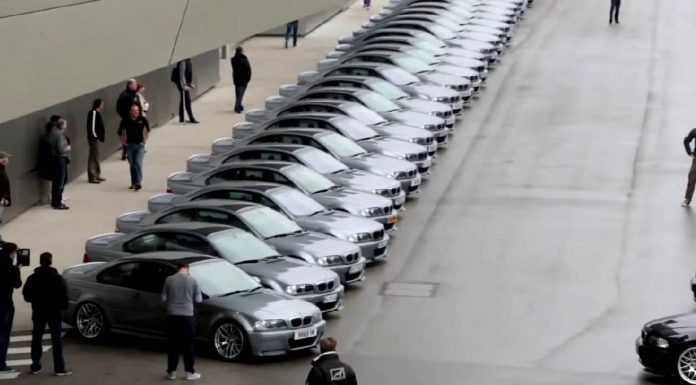 About 50 BMW M3 CSL owners from Europe gathered at the BMW Welt in Munich to celebrate the 10th anniversary of the M3 CSL. The cars as you can see from the video below shows a fleet of these unique limited production M3s in the original colors of silver grey metallic or black sapphire metallic.
Introduced in 2003, the BMW M3 CSL was all about lightweight and thus its name CSL which stands for Coupé Sport Leichtbau meaning lightweight in English. Only 1400 were produced and none was sold in the US. To ensure light weight which counts for power output, the M3 CSL lacked stereo system, navigation system, air conditioning and even electric seats, BMW F1 technology was used to ensure lightweight precision.
As a result, the car was 110kg lighter than the ordinary M3 at the time, it was also faster. Since it was based on the E46 DNA, the M3 CSL came with a 3.2 liter in-line 6 engine with an output of 17hp more than the standard 338hp found in the normal E46 M3. The engine was mated to an F1 style transmission, the SMG II transmission which was capable of making shifts in 0.08 seconds.