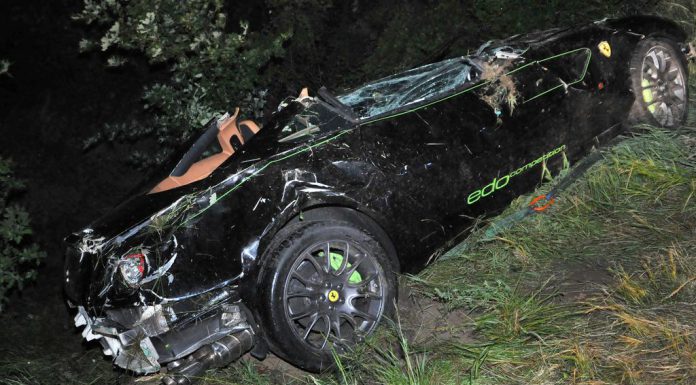 An Edo Competition Ferrari 599 GTB crashed on the A31 between Schermbeck and Dorsten Lembeck in in the district of Wesel, in North Rhine-Westphalia, Germany. The accident took place on Thursday evening but extracting the wreckage lasted till midnight. Meanwhile, First Responders were quick to save the two victims on board who were admitted albeit with serious injuries.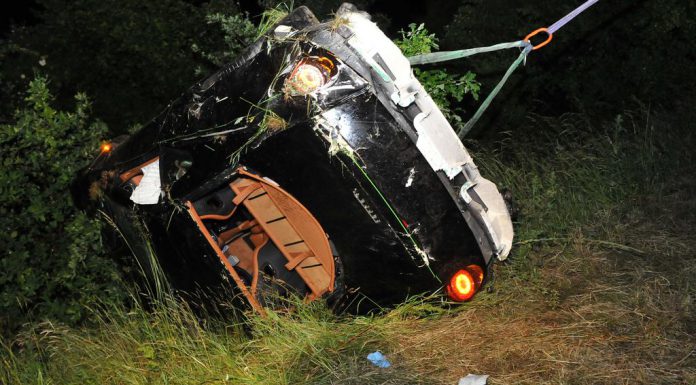 Our source says that the driver and his passenger had borrowed the tuner car, on reaching the spot of the crash, they lost control for unclear reasons. This resulted to the sports car hitting the barrier and flying several times in the air before landing in an 8-meters deep ditch. This makes it one of the very few recognized tuner cars to suffer a massive crash.
The car according to eye witnesses was traveling at high speeds at the time of the crash. Edo Competition have several packages for this car, each package comes with stable support equipment to ensure the extra power does not get out of control. They have a 750PS package and a 650PS package all above the stock 620PS that the Ferrari 599 comes with.
Meanwhile, the drivetrain could still be recovered, a 6.0 liter V12 engine lies within it.
[Source: Dorstener Zeitung]