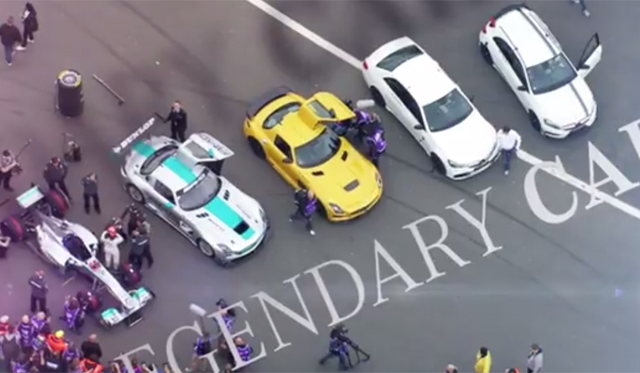 Mercedes-Benz has released the latest video of Michael Schumacher's historic drive around the Nurburgring in a Mercedes-Benz Silver Arrow Formula One car with this latest clip also including visuals from the four other Mercedes-Benz drivers who took part in the historic lap.
In addition to the seven-time Formula One World Champion Michael Schumacher taking part, Bernd Mayländer was in attendance driving a Mercedes-Benz A45 AMG, Karl Wendlinger got the opportunity to drive the new Mercedes-Benz E63 AMG with Schumacher's former Mercedes-Benz F1 teammate Nico Rosberg given the keys to the Mercedes-Benz SLS AMG Black Series.
The final driver to take part in the lap was Bernd Schneider who was piloting a Mercedes-Benz SLS AMG GT3.
Unfortunately, the lap was only an exhibition lap meaning Michael Schumacher wasn't allowed to go full throttle around the circuit in an attempt to set a new world record around the infamous track.