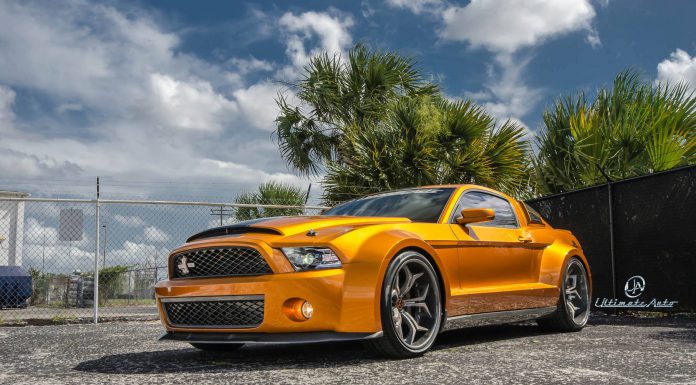 Ultimate Auto the Orlando based tuner and audio specialist is back, this time with quite a monstrous build based on the 2013 Shelby GT500 Super Snake. For starters, lets get you familiar with the car. The 2013 GT500 Super Snake, like all Shelby Mustangs, is based on the Ford Mustang. Shelby American has it tuned with the base model coughing out 662hp while the top of the range model gives a monstrous 850hp.
Ultimate Auto got their hands on the high end variant, the 850hp Super Snake. Their work involved fitting it with an a steel hand crafted Wide-Body kit and hence the added inches on the width of the car. It features real Carbon Fiber inlaid stripes. The car was then set on Vellano Carbon Fiber wheels finished in a menacing design and nature to match the golden and metallic body.
Then they fell onto what they do best-Audio tuning! They fitted the Audison Thesis components then a JL Audio W7 sub system and JL Audio HD amplifiers. The sound could not be complete without the BASF Chip Foose Glasurit paint.
Indeed the owner took home a happy package not only from Shelby American but also from Ultimate Auto. This package comes fitted with a Shelby/Ford Racing 850hp Whipple supercharger or 850hp Kenne Bell supercharger power package. It also features a Forged Shelby/Wildwood brake setup with six-piston fronts and four-piston rear calipers and cross drilled/vented rotors, not to mention the front brake cooling ducts and behind the door side scoops.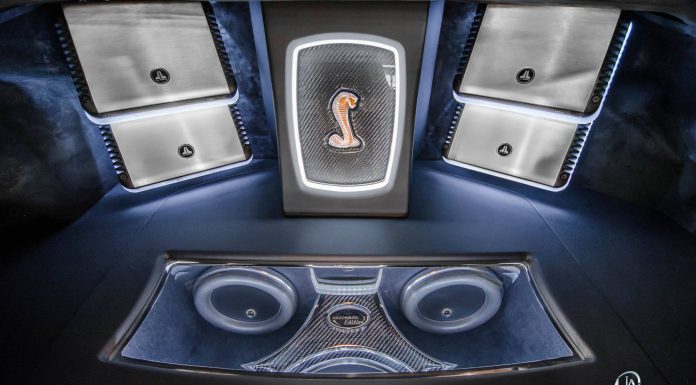 Only 500 will be made, the prices start at $28,995 for the 662hp version and $39,995 for the 850hp model, not including the base car.