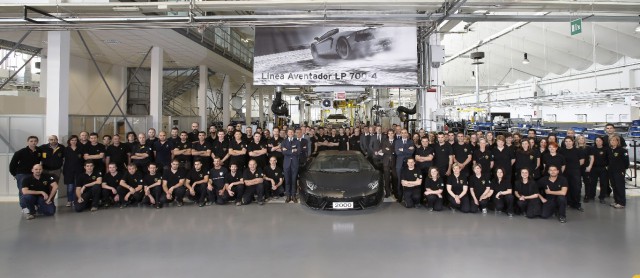 The 2000th Lamborghini Aventador LP700-4 rolled off the production line yesterday at the company's headquarters in Sant'Agata Bolognese, North-Eastern Italy. In July 2012, the 1000th Aventador rolled off the production line, that means that in only two years since its conception, the Aventador has been produced in excess of 2000 units.
Compared to its predecessor the Lamborghini Murcielargo, the Aventador has been produced at double the rate of the Murcielago. The Murcielago hit the 2000th mark in 2006, after it was launched in 2001, meaning it took nearly five years to reach that mark. But again, we are not surprised are we? From the various supercar news and events we feature on here, the Aventador appears to be ever present!
The 2000th Aventador is destined for the US and will be for Thaddeus Arroyo, Chief Intelligence Officer for AT&T. He also owns a Lamborghini Gallardo LP 550-2 Spyder and was impressed by the Aventador at an event in Palm Beach.
The Sant'Agata plant makes around 5 Aventadors per day. Introduced in 2011, the Aventador had a target of 4000 units and so far they have reached halfway. What happens when the Aventador production reaches the target of 4000 units within 2,5-3 years is unclear.