Lamborghini reached a milestone today after seeing the 1,000th Lamborghini Aventador roll off the production line! The car was delievered at the factory to its new owner Hans Scheidecker. Scheidecker received the keys personally from Automobili Lamborghini President and CEO, Stephan Winkelmann. The Argos Orange car will join Scheidecker's Lamborghini Diablo!
The Lamborghini Murciélago took two years and five months to reach the 1,000-car milestone compared to the one year and three months it has taken for the Lamborghini Aventador. The special model received the chassis number 1,000! Since the third quarter of 2011, Lamborghini ramped up production of the Aventador from three vehicles a day to four and a half.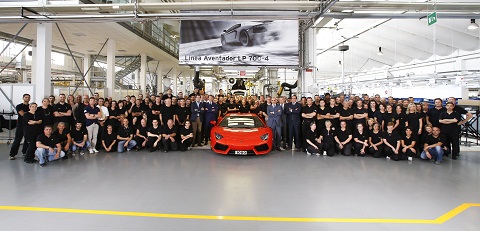 We're told that the Lamborghini Aventador received 36 international prizes for its design and innovative technological solutions during its short lifetime. It has proved so successful that an 18 month order book exists!